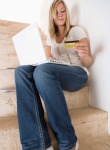 U.S. online sales jumped 15 percent this holiday season, spurred by "aggressive" marketing by Web- based retailers, Businessweek reports.
Online sales were $36.4 billion from Oct. 31 through Dec. 22, compared with $31.5 billion a year earlier, according to MasterCard Advisors' SpendingPulse, a Purchase, N.Y.-based firm that measures retail sales by all payment forms., Businessweek said. Online apparel sales grew the fastest at 26 percent, while electronics were up 12 percent and department stores 11 percent.
"It's a pretty positive story," said Michael McNamara, a vice president at SpendingPulse. "Retailers started earlier, in the second week of November, and were more aggressive with their tactics — discounts and promotions. That seemed to drive growth."
The full story, including some breakdowns by individual stores, starts HERE.