With more than 117,000 total votes cast for 303 entrants during the nomination phase of the 2018 America's Main Streets contest, Independent We Stand announced the quarterfinalists and the next phase of their annual contest. The goal of the contest is to draw attention to Main Streets throughout the country and their small businesses that not only provide a sense of place in our cities and towns but also play a large role in the lasting success of local economies. The theme of the contest this year is "Local Memories. Lasting Impact."
Rooted as a movement of independent business owners across the country, Independent We Stand invites the public to vote now to help one of these deserving quarterfinalists get another step closer to winning a $25,000 grand prize.
Semifinalist voting begins April 30 and runs through May 27. The top ten semi-finalists will be announced May 28 and the winner of the "America's Main Streets" contest will be announced June 4.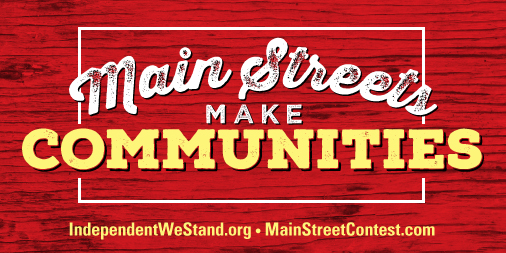 The 2018 quarterfinalists in alphabetical order are:
Belleville Main Street, Belleville, Ill.
Benicia Main Street, Benicia, Calif.
Bridge Street Ashtabula, Ashtabula, Ohio
Cedar Lee, Cleveland Heights, Ohio
Clarence Main Street, Clarence, Iowa
Collierville, TN, Collierville, Tenn.
Congress Street, York, S.C.
Downtown Great Falls, Great Falls, Mont.
Downtown Jacksonville, Jacksonville, Ill.
Downtown Jeffersonville, Jeffersonville, Ind.
Downtown Rochester, Rochester, Mich.
Downtown Smithfield, Smithfield, N.C.
Downtown Statesville, Statesville, N.C.
Downtown Tupelo Main Street, Tupelo, Miss.
East Troy, WI, East Troy, Wis.
Edenton, North Carolina, Edenton, N.C.
Fulton Street, Fresno, Calif.
Hillsboro Main Street, Hillsboro, Texas
Logansport, Indiana, Logansport, Ind.
Lost Nation Main Street, Lost Nation, Iowa
Main Street Covington, Covington, Ga.
Main Street Hayward, Hayward, Wis.
Main Street Texarkana, Texarkana, Texas
Market Street Mt. Carmel, Mount Carmel, Ill.
New London, New London, Minn.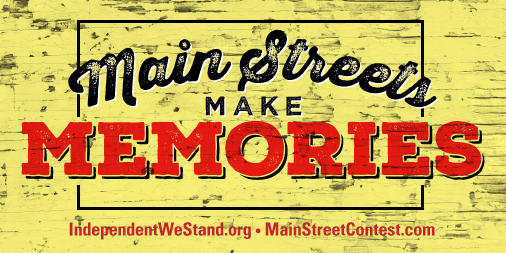 Important dates:
April 30 to May 27: "America's Main Streets" semifinalists voting
May 28: Top ten semifinalists announced
June 4: "America's Main Streets" winner announced
July 4: "Main Streets Make Us Better" event on the winning Main Street; "America's Main Streets" winner announces plans for $25,000 grand prize
To vote for quarterfinalists in "America's Main Streets" contest please visit MainStreetContest.com.
About Independent We Stand
Independent We Stand is a nationwide movement of independent small business owners whose mission is to inspire other small business owners to better understand and celebrate their locally-owned status while educating consumers about the importance and strong economic benefits of supporting them. The Independent We Stand movement is sponsored by STIHL Inc. STIHL products are sold through more than 9,000 servicing power equipment retailers from coast to coast – not big box stores. Associate sponsors include PPG Paints and Do it Best Corp.