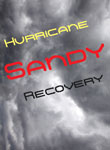 East Coast residents are tasked with cleaning up after Hurricane Sandy, now that storm-swollen tides have returned to normal levels. The hurricane accrued an estimated $20 billion in damage, but officials such as Mayor Bloomberg of New York City remain optimistic. "We're on the road to recovery," Bloomberg issued in a statement on Tuesday. As communities take stock of Sandy's aftermath, retailers are stepping up to help those affected. The Home Depot, for example, deployed Team Depot, an associate-led volunteer force, to assist local disaster relief agencies, including the Red Cross.
"Prior to the storm, we pre-positioned loads of product outside the strike zone with recovery supplies," a spokesperson told Marketing Daily. "Those trucks have already started rolling this morning to our stores, filling essential products, such as generators, cleaning supplies, chainsaws, tarps, batteries, flashlights, pumps and shop vacuums." Other big box retailers, such as Target and Walgreens, are making extra efforts to donate items to communities and organizations as needed. What concerns these and other retailers in the hurricane's wake, however, is the loss in revenue as stores must wait for electricity to be restored.
A spokesperson from the National Retail Federation states, "The longer the power is out, the more retailers and their stores will be impacted. Some companies will see increased traffic with people looking for shovels, generators, blankets and other essential items, but others who have had to shut stores of who are based in towns where people cannot leave their homes will see a different in their October and early November sales."
Some independent retailers and small businesses took it upon themselves to pitch in for the sake of their communities. DC Reynolds, a restaurant in Washington, DC, offered extended specials as customers were excused from work. Motivated by being able to give patrons a place where they could escape the storm, owner Justin Gifford points out to the Washington Post, "We felt it was a place for the community to come to and gather, and that's what happened." Customer traffic on Monday and Tuesday following the storm, he continues, was on par with that of a usual Friday night.