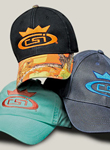 Dan Smith, president of Capsmith, tells Independent Retailer that for the 32 years they've been in business, Capsmith has lived by the motto, "We're different." Smith explains that there are several programs and styles that make his headwear specialty business unique. Capsmith offers domestic screen-printing and embroidery based out of their Florida headquarters. "We embroider with a great attention to detail," explains Smith. "We also offer private label, custom, and souvenir programs overseas."
Their sales team is very attentive, working to provide custom and best-selling headwear to many different markets. "Our products do really well with distributors, wholesalers, and retailers including gift shops, truck stops, convenient stores, military stores, and more," says Smith. The wide variety of styles and affordable custom artwork make Capsmith an ideal option for many sellers nationwide. "Our domestic namedrop program allows customers to choose patterns and styles that would not normally be available domestically at these low prices, minimums, and turnaround times," continues Smith. "We have numerous patterns that coincide with top fashion trends."
One of Capsmith's newest products, Numb Skull Ice Towels, is an ideal addition to apparel, accessory, gift, souvenir, convenience, and general merchandise retailers for the summer months. The cooling towel can keep its cold temperature for hours and is completely reusable. "This functional product keeps you cool and wet in the warm weather," says Smith. They are perfect for sports and sporting games, BBQs and outdoor gatherings, yard work, and any other activity that keeps you outdoors for prolonged periods.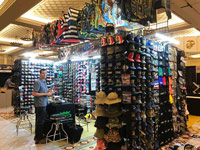 Though Capsmith is constantly bringing in new products, they have several staple items that dependably sell very well. "Our consistent best-selling items continue to include our ever-popular oilskin material, which is available in many product categories," says Smith. "Our do-rags have over 120 designs in-stock. Our oversized headbands are very fashionable and popular with bikers. We also offer an extensive line of beanies and cuffed beanies with unbeatable prices." Orders have a low minimum of $150 and twelve pieces per style.
For more information and to view a product catalog, visit www.capsmith.com. Capsmith will also be exhibiting at the OFFPRICE show in February and at ASD Marketweek in March.