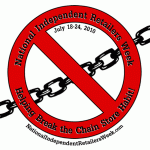 We all know the value of independent retailing. Supporting local businesses means supporting your community, and it's a proven fact that money spent in locally owned business remains in the local community a lot longer than money spent in the big chain and box stores. If giant retailers like Hallmark Cards can create holidays for people to celebrate, then why can't independent retailers have their own special day?
That's the concept that motivated Tom Shay of independent retailing consultant company Profits Plus to come up with Independent Retailers Week. That's right, not merely a single day, but an entire week dedicated to supporting local retailers all across the country. Each year, Independent Retailers Week is celebrated during the week containing July 21, the anniversary of Shay's grandmother's birthday. This year, that means the week of Sunday, July 18 through Saturday July 24.
In honor of National Independent Retailers Week, consumers are being asked to support their community establishments and pledge to shop locally for the entire seven days. For more information on National Independent Retailers Week, visit the official website, http://www.nationalindependentretailersweek.com, become a supporter on Facebook, or follow along on Twitter.