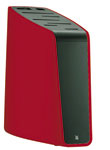 A kitchen tool's primary purpose is functionality, whether for slicing, stirring, grinding or some other common step in meal preparation. WMF Americas, a subsidiary of German manufacturer, WMF Group, offers some of the highest quality kitchenware to U.S. consumers, combining functionality with innovation. Recently showcased at the 2012 Chicago International Home and Houseware Show, WMF's colored knife block set proved to be one of the company's leading new products, already predicted to impact growth for the year before its official launch date in July. "The feedback we received on a global level complemented the product's sleek and urban design, but in the U.S. there was additional praise for it hygienic qualities," says Deborah Corrado, senior VP of sales and marketing.
Available in black, white, red and apple green, the color knife block set under the WMF brand holds six knives, a pair of scissors and a knife sharpener. The block's removable top and ability to go in the dishwasher guarantee easy cleanup. "The knives are also free floating in the knife block, so if a dirty knife should get put back, it doesn't get anything stuck in the slots," explains Corrado. Other features consumers are raving about include the block's three larger knife slots, as most households have more than one chef's knife. Consumers can't complain about price, as most German manufactured products on the U.S. market have a high price tag, but according to Corrado, "WMF's price points are much more relatable to U.S. consumers than they have been before."
Wholesaling for $27.50 with an MSRP of $55, the colored knife block set can be an affordable addition to any kitchen. Retailers receive extra discounts on pricing by becoming one of WMF's Brand Ambassadors. Only available to brick and mortar retailers, the Brand Ambassador program provides a 10 percent discount on orders for retailers carrying six of the 10 product categories under the WMF brand. "It's not about quantity, it's about representing the brand," explains Corrado. These ambassadors are also eligible for free freight with certain purchases. Retailers should have no problem selling the color knife block set, but to help in its appeal, WMF is also providing displays with signage, explaining to consumers why they have a need for a color knife block set from WMF. The reasons go way beyond functionality.
For more information:
WMF Americas, Inc.
3512 Faith Church Road
Indian Trail, NC 28079
Toll Free: 800-966-3009
Tel.: 704-882-3898
Website: www.wmfamericas.com