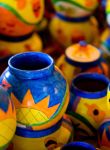 Some say it is a consumer reaction to perceived over-commercialization in society. Whatever the reason, handmade craft-making has taken off as a very viable business for many online.
Home-based entrepreneurs everywhere have been taking advantage of sites like 1,000 Markets, ArtFire and Etsy, which have given sellers of such craft items an outlet to reach a previously unheard-of amount of buyers. No longer are simple craft fairs and informal networks of friends the sole way for indie crafts to get sold in large numbers. In fact, so many have signed up for such online shops that it often becomes quite competitive.
"It is a great vehicle, but because of so many jewelry shops on there, it's hard," said Etsy merchant Rose Braunstein in a recent L.A. Times article.
To give an idea of the robustness of this new online development, Etsy currently has approximately 400,000 online shops active, offering just about any type of craft item one can imagine. Shops are easy to set up, and easily allow sellers to also network with each other in order to exchange ideas and offer support. Many sellers own more than one store, but at the same time, most also only run their stores as a side business. But as the phenomenon grows, this could one day change.
The host sites themselves make money by charging a percentage of each sale made. For example, Etsy charges 3.5 percent, plus an additional 20 cents to list a single item for four months. The company reported gross sales of $180.6 million for 2009, and is currently in the process of increasing functionality, adding new tools, and even introducing phone support.