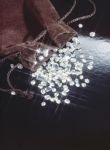 Call it the David and Goliath scenario of the jewelry world. Los Angeles manufacturer Orogem has taken its copyright infringement issue against diamond giant De Beers to court, after a failed attempt to settle the matter in a "mutually beneficial manner".
"In my many years of design work, I understand the support required for independent retailers to be successful, especially when they are providing their own marketing dollars towards advertising a specific design," said Oregem VP Jose Porcell in a press release. "Oregem has built many of its own design collections by partnering with retailers over the last 24 years. I was hoping a prompt, amicable resolution could be reached with De Beers… but unfortunately, De Beers and Oregem failed to come to an agreement."
Oregem claims that De Beers' design for its Everlon Diamond Knot Collection, launched last year, is far too similar to its own Larkhead pendant designs, which were created in 1998. Claiming to have exhausted other options, Orogem filed suit last month against De Beers for copyright infringement, in addition to the manufacturers and retailers who signed up to be a part of the Everlon program and become licensed dealers.
After its initial introduction 12 years ago, the Larkhead design was sold by Oregem to independent retailers as recently as 2002. It was also carried by both Sterling Jewelers and QVC.