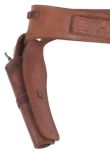 Bright-orange plastic tips have been placed on toy guns for years now, in order to differentiate them from the real thing and keep kids safe. But now, discount chain Dollar General Corp. has announced that it is officially recalling a series of toy gun sets due to a danger involving this safety feature.
Specifically, the "Special Forces Weapons and Accessories Set" and "SWAT Police Play Equipment Set" were both identified, according to the U.S. Consumer Product Safety Commission. The recall is completely voluntary, and due to the discovery that the aforementioned plastic safety caps can very easily detach from the toy guns in question, making them look a little too similar to actual firearms. The caps themselves, once detached, also pose a choking hazard.
Dollar General sold the toys in 35 states during September and October of last year. The toys can be identified by the code 48JQH09 printed on the right side of the larger gun in the set. Items can be returned to Dollar General stores for a refund or replacement. No choking incidents have been reported thus far.