by Krystina Morgan & Meaghan Brophy
NY Women's Show is a multi-show marketplace held several times a year in Javits Convention Center in Manhattan. Retailers can find everything from contemporary and luxury brands to trend-driven apparel and accessories. Here are Independent Retailer's favorite suppliers from the June show, many of which can be found at the upcoming NY Women's Show September 15 – 17.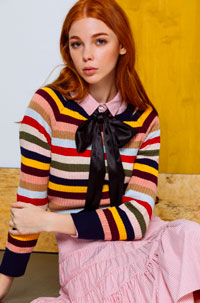 2.7 August Apparel Inc.
With 6 different brands to choose from, 2.7 August Apparel Inc. offers almost every style of women's wear. From chic and classy to a stylish relaxation day at home, this digital shopping destination has styles you simply won't find anywhere else. Their newest line, Recess Kids, just started so children can feel just as stylish as their parents. 2.7 August Apparel Inc. sells to over 200 retailers. Sade Sydney, a sales rep for Free The Roses line, is sporting their white 'FEMME' long-sleeved dress with a black fishnet covering the outside. She completed the look with black fishnet stockings to match, black combat boots, and a black hat, all from the line. For more information, visit www.27augustapparel.com.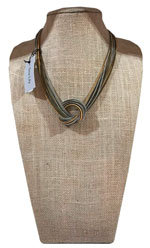 SeaLily
Currently selling to more than 5,000 retailers, SeaLily is a jewelry wholesale supplier out of Atlanta, GA. The company started between a husband and wife after the wife visited Asia with her friend. She brought back a lot of jewelry, and decided to make some herself. Each piece of jewelry is handmade, featuring necklaces, bracelets, and earrings with unique designs that cannot be found at other jewelry stores. Their best-selling piece is multi-colored wire necklace that loops into a knot in the center. For more information call 404-843-8240.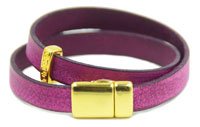 Kamaria Jewelry
Kamaria offers handmade artisan jewelry using semi-precious stones, spiritual amulets, and artifacts from around the world. The jewelry brand was started by cousin duo Ellie and Kristen. From an early age, both Kristen and Ellie acquired a love of art and fashion design. Their goal is to empower women and men through their jewelry. They are inspired by connecting people from all around the globe through wearable art. The Kamaria Ethnic collection contains pieces from Ethiopia, Thailand, Italy, and Cambodia. 10% of proceeds go to Restore Dignity, a non-profit that gives financial assistance to Survivors of power-inequality trauma. Visit www.kamaria.com to learn more.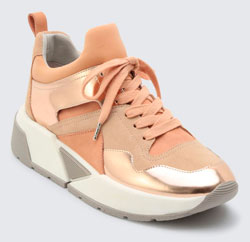 Dolce Vita
For over 15 years, Dolce Vita has been a wholesale supplier of women's shoes. They are a specialty boutique and lifestyle brand offering the latest styles in shoes such as wedges, sneakers, flats, and boots. They have a wide range of boots to keep your customers warm and stylish during the cold fall and winter months. One of their featured boots at Accessories The Show was a tall, suede boot with a heel that comes in grey and black. Once fall season hits, customers will be looking for stylish boots to keep their feet and legs warm, so make sure to add Dolce Vita boots to your shelves. Fore more information, visit www.dolcevita.com.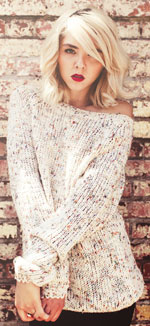 Dreamers by Debut
Starting in 2014, Dreamers by Debut has been providing versatile, chic sweaters for the contemporary girl. Fame NYC was their first tradeshow, and according to James Lee, co-owner of Dreamers, they have been receiving good feedback from it. They offer all different types of sweaters and pullovers such as light/airy ones for the fall and heavy hooded sweaters for the winter. Now is the time to stock up for the cold months, so use Dreamers as your supplier to keep your customers warm and stylish. For more information, visit www.dreamersla.com.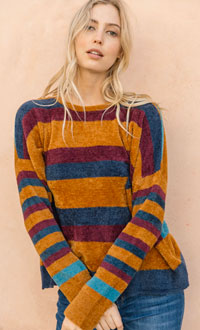 Mystree
Located in the heart of Los Angeles, Mystree was established in 2006 with a goal to create a boutique line that offers contemporary women beautiful, high quality clothing. Selling only women's apparel, their collection consists of knits and sweaters with a focus on lace and ruffles. Mystree is a one-stop-shop for independent owners and buyers. Keep your customers warm with their west coast bohemian chic intertwined with elegance sweaters. For more information, visit www.mystree.com.

Veronica M Los Angeles
Veronica M clothing is a boutique and wholesaler offering a fusion of classic styles mixed with vintage patterns. Their booth was constantly abuzz with retail buyers at UBM's Women's Show. They offer everything from tops, dresses, rompers, pants, and accessories like jewelry and handbags. Based out of Los Angeles, this group offers colorful and comfortable on-trend pieces. Company founder Veronica Monroy-Ferrer first joined the fashion world in 1996, selling her well-known mini skirts at the Fairfax swap meet in Los Angeles, California. Daughter of a successful Peruvian seamstress, Veronica learned early on the secrets to designing clothes and acknowledging the modern woman as stylish, strong, and career-minded. In 1997, she opened up her first retail location on La Brea Boulevard. Wholesale demand for boutiques and private label grew tremendously. Now, Veronica M focuses on wholesale and their retail website. See the collection at Veronicam.shop.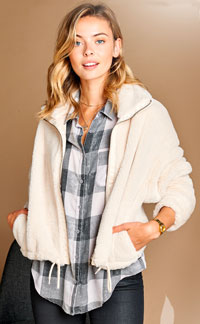 Paper Crane
Paper Crane is a wholesale-only company that designs free-spirited apparel, meant to move with the body while showing off unique design details. Their Lazy Sundays line focuses on comfort and uses materials that make people feel at home no matter where they are. Paper Crane and Lazy Sundays feature comfortable, easy-to-wear tops and bottoms in soft fabrics. Since their pieces are all about comfort and coziness, Paper Crane is a perfect addition to your fall apparel inventory. Visit www.papercranestore.com to learn more.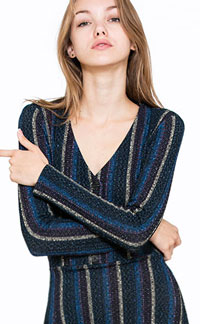 En Crème
Enamored by California's effortless vibe, En Crème is inspired by the bohemian lifestyle of free-spirited individuals. Showcasing natural silhouettes with flirty, colorful accents and vintage details, En Crème celebrates individuality and seeks to create fashion that is exciting and accessible. They carry everything from dresses, tops, rompers, outerwear, bottoms, and more in a variety of sizes. Keep an eye out for their upcoming fall collection on www.encreme.com.