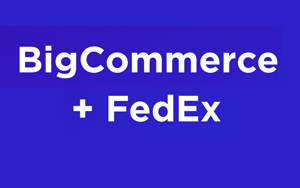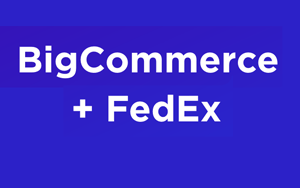 BigCommerce, a leading open SaaS ecommerce platform for fast-growing and established brands, is collaborating with FedEx Corp. (NYSE: FDX) to give small and medium businesses on BigCommerce access to the robust FedEx portfolio of ecommerce solutions and competitive rates.
A 2019 BigCommerce survey found that 77 percent of global consumer respondents have abandoned an ecommerce purchase due to unsatisfactory shipping options. With this enhanced feature set, growing merchants on BigCommerce receive enterprise-like shipping capabilities, ultimately giving them the opportunity to provide their customers with a more premium delivery experience.
Through this alliance with FedEx, BigCommerce merchants that sign up will receive a number of business advantages, including:
Competitive rates. BigCommerce merchants that leverage this partnership will receive discounts up to 40% on FedEx GroundⓇ and 50% on FedEx ExpressⓇ services. Along with access to highly competitive rates and capabilities through FedEx, new merchants also get their first four months free on BigCommerce.
Enhanced shipping capabilities. FedEx offers merchants a number of services critical to a competitive ecommerce business, including FedEx Home Delivery, which now delivers seven days a week; a portfolio of flexible, simple return solutions; and the FedEx retail convenience network to give consumers the choice to have their packages delivered conveniently and safely to various grocery stores, pharmacies and FedEx Office locations.
Keep your own FedEx Account. Merchants will receive their own FedEx account number for use with any shipping solution or have the ability to keep an existing account number. Through this, merchants will be able to leverage the vast portfolio of solutions that FedEx provides. Additionally, merchants can contact FedEx directly for pickups and billing questions, as well as to order supplies, reroute packages and manage their My FedEx Rewards account.
"Great ecommerce experiences need to be paired with great shipping options, but it can be difficult for growing merchants to provide affordable shipping at price points that align with today's customer expectations," said Russell Klein, chief commercial officer at BigCommerce. "Teaming up with FedEx, one of the world's most well-respected ecommerce transportation and logistics carriers, gives all our merchants access to a unique set of capabilities and rates, which ultimately enables them to compete more equally on a global scale."
"Timing of this alliance and offer couldn't be better for growing businesses looking to build their brand through their own web store that has integrated, competitive shipping options with a range of services to deliver the intended consumer experience," said Ryan Kelly, vice president of global ecommerce marketing at FedEx Corp. "This pandemic has made it absolutely clear that businesses need options and partners they can trust. For businesses that are only using a marketplace or only have a physical presence, now is the time to own your future."
Additionally, BigCommerce is also offering new merchants their first four months free on BigCommerce. Merchants interested in signing up with BigCommerce or learning more about how to take advantage of FedEx's portfolio of ecommerce solutions can visit www.bigcommerce.com/FedEx.