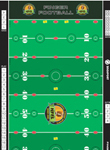 Finger Football and the other Zelosport products were created around the age old pastime of paper football. In the game of paper football, players flick a folded piece of paper across a tabletop, until any portion of that triangle shaped "football" hangs over the table's edge for a touchdown. Six points are awarded for the TD, and the player then kicks an extra point through his opponent's, "finger goal posts."
Zelosport Finger Football replaces the paper football with a "slider," a widget made of a plastic ring with a sliding ball in the center that is used for everything a real football is used for, from passes and runs to fumbles. A three inch foam football is used to score extra points, and field goals, just like in paper football, through finger "goal posts." With more than 70 collegiate designs to choose from, the whole family can participate in football season hype, using their favorite NCAA Finger Football game. Zelosport Finger Football is played on any flat surface, from the kitchen table to the floor of the family den. You don't have to be athletic to play; a little girl is as likely to win as a middle-aged man. Gender and age don't matter on the Finger Field, says the company.
In February 2010, Zelosport released the mobile version of Finger Football, an app for the iPhone/iPod Touch. The app was developed by GripWire Inc. and is an animated 3D representation of Zelosport's Finger Football table game. The wholesale price on Finger Football is $14.95 per unit, and suggested retail is $29.95. The minimum order is a 12 can, mix and match of the firm's various games, and displays are available. Zelosport offers an exciting variety of other products, including Finger Baseball, Finger Golf, Soccer (new World Cup edition), Finger Hockey, Basketball with Tennis, and NASCAR. The company will soon release a decathlon game.
For more information:
Zelosport
3021 Sandy Pkwy., Suite E
Columbus, GA 31909
Toll Free: 866-935-6872
Tel.: 706-507-3260
Website: www.zelosport.com