"Franklin Eyewear was born in 1985 when baby boomers came in to the reading glasses market," says Franklin Eyewear founder Al Underwood. "Reading glass styles changed drastically at that point, so I wanted to create a program that suited the taste of baby boomers and would do well in pharmacies, bookstores, and anywhere that stocks reading glasses." Franklin Eyewear, named after Ben Franklin, the inventor of the bifocal, comes in a variety of classic and trendy style assortment packs.
If you are a retailer looking to bring reading glasses into your store for the first time, or are looking to revamp existing displays, purchasing assortment packs can save you some time and cut down on the trial-and-error period. With over thirty years of industry experience creating glasses specifically designed for the baby boomer audience, Underwood has curated the perfect assortment of timeless styles and contemporary looks. With such a lengthy history in the over-the-counter eyewear business, Underwood and his team know what sells best.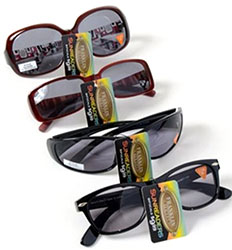 The glasses are also color-coded by strength. Color-coding allows shoppers to easily find the strength they need and allows storeowners to restock their display based on popular strengths and styles. Assortment packs also provide a range of styles. Experience has shown that displays with one or two of many styles have a higher sell-through rate than multiples of only a few styles. Franklin Eyewear packs take out the guesswork and the legwork to provide an easy experience for retailers and shoppers alike
"Even as we're kicking and screaming into old age," says Underwood, "we still want to look good. These prices are competitive with chain discount stores, so customers can get quality reading glasses at reasonable prices." Franklin Eyewear wholesales for $3.50 per pair and come pre-priced at $6.99 retail. Retailers can purchase the reading glasses by the dozen. Each pack of twelve comes in an assortment of styles. Orders of twelve dozen glasses qualify for a one-time-only free display and free shipping. As Underwood says, "In the words of Ben Franklin, 'Well done is better than well said.'"
For more information, visit www.FranklinEyewear.com.