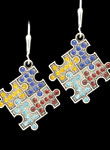 There is no downtime for college and high school themed merchandise by From The Heart Enterprises (FTH), as the company's extensive line of sunglasses, jewelry and watches is popular all year long. FTH Enterprises is licensed to produce logos for 165 colleges, and also manufactures spirit themed accessories for 3,000 high schools. "It's become quite a phenomenon, in that we started out doing a line of sports glasses and that grew, and we added some beautiful fashion glasses for colleges and then added more fun styles like wayfarer looks," explains Gary Cawood, CEO and president of FTH. "College football season is strong in the fall and through Christmas, so it creates a dynamic for us where we get at least a 10 or 11 month selling cycle. The first is driven by the normal sunglass season, and the second by college football," Cawood notes.
"For spring 2013, we've added 10 new styles of fashion bling sunglasses for the ladies. We found that sunglasses with a medium size lens were popular last year, so we are offering new designs to support that trend in the market." For men, rimless sunglasses are popular, and the company has added two new designs to its spring line of half rim sports glasses. FTH sunglasses wholesale for $4.90 to $5.90 per pair, and retail for $10 to $20. The company offers a wire display rack that is free with the purchase of 36 pieces, and holds 12 pairs of sunglasses. "It holds them out like in an optical shop, so you can clearly see the front and sides of the sunglasses. That is very important, because the logos are on the corner and the side," Cawood points out.
FTH Enterprises also wholesales jewelry, including bracelets, necklaces, earrings and rings. The company focuses on three segments, the first of which is team jewelry. "We bring our jewelry in blank from our factory in China and apply the logos here. This enables us to have 300 different items that can be produced for any school. As a result, we are able to do 12 piece minimums with no setup fees," Cawood notes. The company's second jewelry segment features 350 themes, including crosses, insects, occupations, holidays, wild animals and sports-related. Sports-related, crosses and occupations are among the most popular sellers. "We have the largest line of theme charms in the U.S., and we turn them into necklaces, bracelets and all types of jewelry," Cawood reports. Pieces in this line retail for $10 to $15. "The regular wholesale price is $5.90, and with the lifetime discount Independent Retailer readers will receive, the wholesale price is $4.72 apiece." The third category is a fashion line, which contains classic, timeless pieces. "I design 90 percent of the line by looking at old world vintage pieces and then making simplified versions that capture the same spirit," Cawood explains. The company also sells two types of watches; fashion college pieces and Chantilly, which are stretchy bangle watches. Jewelry and watch displays are available and sold separately.
FTH Enterprises is offering Independent Retailer readers a 20 percent discount for life. The minimum order is $50. The firm invites retailers to view its accessory assortment online at ShopFTHwholesale.com, or at any of the trade shows where it exhibits. FTH Enterprises can be found March 17-20 at booths G524 and G525 at the ASD show in Las Vegas, at the Sands Expo Center.
For more information:
From the Heart Enterprises
2374 West New Orleans St.
Broken Arrow, OK 74011
Tel.: 888-708-1090 or 918-369-0622
Website: www.shopfthenterprises.com