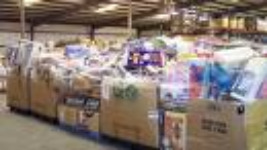 It can sometimes be a challenge to sell wholesale products and general merchandise that will retain their appeal even when the economy is not strong and customers are more hesitant to buy. That's why it's important to find a distributor with strong buying power, that can offer deals that still make selling for profit a reality. Crazy Deals Wholesale is a supplier that features major brand-name department store merch for pennies on the dollar. And it's available by the pallet or the truckload.
Crazy Deals Wholesale takes pride in a well-earned reputation for dependability and honesty, and buyers have been known to save thousands on purchases of general merchandise. Small businesses and independent retailers in general can benefit greatly in this way, and gain the ability to compete against much bigger operations, many of which buy below wholesale prices. Detailed information on pricing and the like can be found at the official website, http://crazydealswholesale.com.
The company buys below wholesale products on a local, national and international market, offering high-quality goods for bulk, closeout prices. The minimum order is a single case of any product–so instead of getting bogged down with inventory, retailers can focus on moving merchandise.
Contact:
Crazy Deals Wholesale
2181 US Route 36 West
Greenville, Ohio 45331
Ph: 800-558-0811
Website: www.crazydealswholesale.com