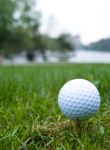 The recent scandal involving golf superstar Tiger Woods took the sports icon out of the public eye for a number of months. Many at the time believed this absence would adversely affect sales of golf apparel and related equipment, particularly of the Nike products directly sponsored by Woods himself. However, it should be noted that the period Woods spent away from the public eye actually coincided with the traditional slow period for sales of golf clothing and equipment, and now that he is back in action for the Masters, it may be just in time to give retailers a needed boost.
As of this writing, Tiger had completed an almost perfect first round, breaking 70 (with a shot to spare) for the first time ever, and was heading confidently into the second round of the Masters.
"Selfishly, this is perfect," said Martin E. Hanaka, chairman and CEO of golf and tennis retail chain Golfsmith in an interview with the New York Times. "The season's kicking off. The Masters is the No. 1 event. Spring is blooming. People are itching to get out there."
Historically, a Tiger Woods victory usually translates to big sales of golf-related merchandise. Understandably then, retailers anticipate the golfer's return, and hope that he will excel as he has done in the past.
In recent months, independent retailers report that sales have suffered slightly, but the final verdict is mixed. Woods' clothing line took a hit, with some speculating that women were put off from buying Tiger-sponsored clothing for their golf enthusiast husbands due to the controversy. Stores were also unable to display Tiger's Thursday-to-Sunday schedule of shirts, naturally, while he was not playing.
However, Nike equipment sales did not seem to take an appreciable hit due to the Woods scandal–not even the high-end Victory Red club line, which features an iron that sells for $899.99.
Victory Red is just a segment of the massive Nike Golf line, of which Tiger Woods has long been the centerpiece. Over the years, he has proven to be the best thing to ever happen to golf retailing, and the golf industry as a whole. It's worth noting that Nike has stood by Woods throughout the scandal, as opposed to AT&T and Accenture, which dropped him as a spokesman; and Gillette, which temporarily stopped featuring him.