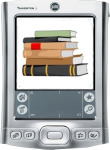 At an event held earlier this week called "The Book on Google: Is the Future of Publishing in the Cloud?" Google's manager for strategic-partner development Chris Palma announced that the search engine giant would be entering the e-book arena come this summer. Google plans to open it's e-book store, Google Editions, and enter into direct competition with companies such as Apple, Amazon and Barnes & Noble.
Google plans to make the e-books it will offer available for viewing on a variety of devices, reported to include the Androd mobile operating system, also from Google. The Google book-search system will be linked with the Google Editions online store, meaning consumers will be able to buy books they find via book searches, directly from Google itself.
Based on a revenue-sharing system, independent websites and shops will be able to sell Google e-books, although the question remains as to whether independent retailers will be permitted to dictate pricing, or if that will be completely controlled by Google. This also begs the question of whether Google will be making plans to unveil its own e-book reader device, as Amazon did with the Kindle, and Apple with the iPad.