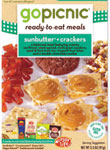 In today's world, eating on the run is the norm, leading to major nutritional concerns. GoPicnic provides consumers with convenient, tasty, and high quality meals that can be easily eaten on the go. "GoPicnic's mission is to provide delicious, flavorful, ready-to-eat meal solutions," explains Julia Stamberger, president and CEO of GoPicnic Brands Inc. Responsible for originally conceiving, developing and launching the airline buy-on-board meal and snack box concept, Stamberger has expanded her concept into a new retail line, with eight ready-to-eat meals that are perfect for grocery, airport, specialty and drug stores.
Each GoPicnic is a well balanced meal containing a protein, fruit, whole grain and sweet treat for dessert, offering fewer than 500 calories per meal. With an increasing demand for clean eating, GoPicnic offers unmatched portion control options that are flavorful and nutritious. It is also the ultimate concept in convenience for consumers requiring special diets, including gluten-free, vegetarian, kosher or vegan. "Six of the eight are gluten-free meals, making it easy for consumers with gluten sensitivity to eat the foods they enjoy in one package," says Stamberger. "We have also launched five all natural and three deli meals that require no refrigeration or preparation."
Favorites among the innovative line include the Hummus & Crackers, Turkey Stick & Crunch, and Salami & Cheese. The Hummus & Crackers GoPicnic offers a balanced meal of Wild Garden Hummus dip, Crunchmaster Multi-Seed Crackers, Seapoint Farms Dry Roasted Edamame, Sweet Perry Orchards Baja Bend Fruit & Nut Mix, and an Endangered Species Dark Chocolate Square. "This all natural meal includes 25 grams of protein, 12 grams of fiber, and is 400 calories," details Stamberger. For a wholesale cost below $4 and an MSRP of $4.99, retailers can offer GoPicnic as the ultimate solution in portability and convenience for people with busy lifestyles. "Complementary wire counter, floor and cooler racks are available upon request," adds Stamberger.
For more information:
GoPicnic, Inc.
4011 N. Ravenswood Ave, #112
Chicago, IL 60613
Tel.: 773-328-2490
Website: www.gopicnic.com