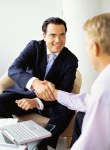 Small businesses facing financial concerns with their commercial mortgages may be eligible for a new federal program that will allow owners to refinance the loans. The two-year temporary program, which is just beginning, may be opened up later to business owners that can demonstrate need in other ways.
"The economic downturn of recent years and the declining value of real estate have had a significant, negative impact on many small businesses with mortgages maturing within the next few years," SBA Administrator Karen Mills said in a statement. "As a result, even small businesses that are performing well and making their payments on time could face foreclosure because of the difficulties they face in refinancing and restructuring their mortgage debt. This temporary program is another tool SBA can provide to help these small businesses remain viable and protect jobs."
The program, authorized under the Small Business Jobs Act, will be in effect through Sept. 27, 2012, and the SBA estimates that 20,000 businesses nationwide will participate in the program, which will provide up to $15?billion in agency-guaranteed financing. Borrowers will be able to refinance up to 90 percent of the current appraised property value or 100 percent of the outstanding mortgage, whichever is lower, plus eligible refinancing costs. Loan proceeds may not be used for other business expenses.