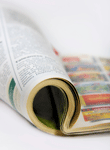 Most businesses these days believe they can only benefit through online marketing. However, the best marketing efforts take a multi-media approach, combining online media with print media. Consumer response is not solely based on the chosen media outlet, but more importantly, the presentation of the message. There are many ways to present a desired message, like, "Buy my product!" or "Choose my service," but there are a few standard rules in designing an advertisement that will sell this message and improve its response.
The Immediate Message: Crucial to Successful Advertising
The first thing an ad should do is catch a reader's attention. If a person is flipping through a magazine or newspaper there is a very good chance they will flip by your ad unless something pops out at them. Large pictures of your product, colorful graphics, attractive models, and bold text are all ways to draw attention to your ad.
Beyond the flashy aesthetics, there should also be a clear message as to why your product or service is important. With a single glance, a person will decide to read your message or skim over it entirely and turn the page. Think of it like a billboard along a highway. A person driving at 65 miles per hour has less than a second to glance at an ad before they drive past it. The same philosophy applies to a magazine or newspaper ad. If for example, your company sells jewelry, you might want a large close-up photo of your best piece to show the quality of your item. Perhaps your jewelry line is focused on low cost; then, you might want large, bright text that announces your company's discount prices. However you attract attention, it must be clear and concise.
Call to Action
Once you have a reader's attention, the next step is to get them to act on or respond to your ad. Words like "Call Now" or "Limited Time Offer" add urgency to your message and increase the possibility that they will pursue your product and not simply move on and forget it.
Contact Information
It is rare that anyone will immediately buy your product just by what they see in your ad. Most of the time they will have questions to ask before they make a purchase, so be sure to list your phone number and website prominently. Respectively, not listing a phone number at all can make a prospective buyer question the legitimacy of your company and possibly disregard your product altogether.
Priorities
If you have more than one product or message to display in your ad, try to prioritize which items are most important. There is limited space in an advertisement, and the goal is to send as clear a message as possible. Unfortunately, at times it is easy to think everything is important. Remember, too much means chaos and can dilute your overall message. If you have more than one product to display, pick out the most eye-catching item and make it larger than everything else. If you have large type that displays how great your product or service is, make the other typefaces smaller so the main message can stand out uncontested. If you are featuring a brand name, use the commonly recognized logo, leaving little room for confusion among a list of your other products.
Coupons and Special Offers
Almost any ad will improve in response with a discounted offer or coupon. If you have a special package deal, make sure it is mentioned. It is also good practice to note expiration dates for each offer, adding to the immediacy of the message and preventing interested customers from trying to purchase an outdated offer.
Pricing
Whether you should display pricing in your advertisement is a choice best made by you. If you know your pricing beats your competitors, then definitely draw attention to that fact. On the other hand, if you are focused more on quality and added services, then state those positive aspects.
Track Your Response
How do you know how well your advertising is performing? Tracking allows you to calculate what works and what does not. It might be as simple as having the person that answers incoming calls ask where a customer heard about the product. Or if a company has many different advertisements, it might put special codes for coupons or offers that can be tracked when used to purchase.
By using these simple tips, you can improve the performance of your ads. If you have an ad that lists all 50 of your products, you might be surprised how many more may call when you highlight just your top four items. Ad performance is all about concision and clarity.