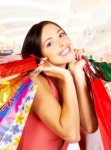 With a number of key economic indicators showing positive signs for the retail environment, industry and market researcher IBISWorld says it expects those numbers to translate into a relatively strong holiday season.
In a release taking a look at the weeks leading up to December 25, IBIS says retail sales on Black Friday are projected to increase 1.9 percent from 2009 to $11.7 billion. The overall weekend (Friday through Sunday) expenditure will grow by 3.4 percent to $41.7 billion. Retailers may not resort to the deep discounts displayed in 2008, but they are likely to let low prices linger throughout the weekend to help attract more shoppers and, thus, earn higher revenue.
"This year, it's about getting customers in the door," explained IBISWorld retail analyst Nikoleta Panteva. "Discounts on products will be a key factor in accomplishing this, but beyond that, retailers will be looking for more full-priced retail sales."
The spotlight this holiday season will be on Cyber Monday, which is expected to experience a sales increase of 13.2 percent. Retailers and e-tailers alike will be offering discounts Thanksgiving through Monday.
Christmas sales are forecast to rise 3.6 percent from last year, totaling nearly $59.0 billion. Electronics, such as remoteless video game consoles and tablet computers, are expected to be the strongest-growing gift category, increasing 7.0 percent. IBISWorld also expects a return to luxury shopping, with jewelry sales up 6.1 percent. Apparel, on the other hand, is projected to show less-than-stellar performance, growing only 0.1 percent from 2009. The leading retailers, therefore, are likely to be electronics stores like Best Buy and  jewelry stores like Tiffany & Co.  Retailers that have a strong focus on clothing, Kohl's for example, may find the going a little tough this year.