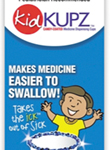 Any parent can tell you that one of the toughest things about having a sick child is getting them to take medicine that doesn't taste good. Yet it was a personal experience that led Jill Addeo, president and cofounder of KidKupz, to develop her product line to make parents' lives easier. "After a successful career on Wall Street, my stepfather, Lew Horowitz, volunteered his time in the pediatric ward at New York's Memorial Sloan Kettering Cancer Center," she says. "He was there for ten years, and one thing that always troubled him was that these sick kids also had to endure taking foul tasting medicine."
After Horowitz passed away, Jill and her mother decided to do something to honor his work at MSKCC, so they developed KidKupz, a unique medication dispenser cup with a candy coating on the rim. "They're tiny crystals of flavor," Addeo says, "that come off on the child's lips and tongue as they're taking their meds. It helps the medicine go down more easily." While other "medicine flavoring" and delivery mechanisms exist, the KidKupz line is the first of its kind, and in addition to being naturally flavored, each KidKupz dispensing cup contains only two grams of sugar and no high fructose corn syrup.
KidKupz come in four different flavors, sour cherry, blue raspberry, watermelon and green apple, and are sold in packages of six Kupz per pack. They wholesale for $2.99 each pack, sold in cases of 12, and retail for $4.99 each. "The product is being very well received," Addeo says, "because it's based on a premise for taking medicine that doesn't exist anywhere else. Where parents sometimes give a child a piece of candy right after taking medicine, KidKupz puts the treat right there with the medicine." Addeo says discounts for quantity orders can be arranged, and shipping is fast and easy. Coming up next, the company has several other products in development, but can't talk about them just yet. "We're just trying to make sick kids' lives a little better," she says.
For more information:
KidKupz
945 Fifth Avenue, Suite 6B
New York, NY 10021
Tel.: 212-570-2060
Toll Free: 888-KID-KUPZ
Website: www.kidkupz.com