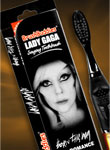 On average, people brush their teeth for 45 to 75 seconds, far below the recommended two minutes. Anish Patel, CEO of Brush Buddies, set out to change that with the creation of a line of toothbrushes that aims to make brushing fun. In addition to the company's standard, talking and poppin' toothbrushes, using cute animals and various methods to engage children, Brush Buddies has introduced singing brushes. "We have Justin Beiber, Lady Gaga, LMFAO, Psy and One Direction, and when you press the button, the toothbrush plays a song for two minutes," Patel explains. In talks with other artists, Patel says he will be adding more songs to the line.
"We are the number one selling licensed manual toothbrush," Patel notes. "We beat out licenses such as Disney, Marvel and Hello Kitty, and it's because our product is a huge impulse buy. Our packaging drives sales by showcasing the artist and the song in the toothbrush. Consumers can try the song before they buy the product."
Another important point, Patel continues, is that the company makes the products very attractive to the end user. "When consumers go to our website and register, we give them a set of brush heads and batteries for free. For the price, they are getting a lot more value than any other product on the market." The retail price is $9.99 to $14.95, and retailers are invited to contact the company for wholesale pricing. The minimum order is one case of 24 pieces, and free point-of-purchase displays are available.
Where to buy
Brush Buddies
7950 Cherry Avenue, Suite 103
Fontana, CA 92336
Toll Free: 877-274-8358
Visit Brush Buddies