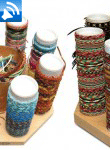 For retailers that want to add a touch of class and jewelry to their current lineup, Florida based, Killerbeads, carries more than 1,000 skus and over 15 different product lines. "The original owners went to festivals and shows selling their wares, starting about 18 years ago," says Michelle Mosscrop, sales and marketing manager. "They then started traveling abroad to Greece, Costa Rica, the Philippines, India and China, looking for new products to sell, and we now carry products from all over the world," she notes. Killerbeads wholesales to a varied clientele, including flea market and festival vendors, resort businesses, skate, tattoo, and music shops, and jewelry stores.
Old Favorites and Hot Trends
The company offers a wide range of jewelry products, although customers keep coming back for their old favorites, year after year. "Plain hemp jewelry is always very popular," Mosscrop says, "and is one of our best sellers. We also have bracelet programs, including a variety of friendship bracelets." Killerbeads carries a floor display program with a standing display that holds 600 pieces, so it can show many different products at once. "The floor unit fully stocked wholesales for $1,000 to $1,400, depending on the items requested," Mosscrop notes. "Retailers can expect at least a three-times markup."
Killerbeads carries its own KB lines, as well as officially licensed products, including hemp, glass, metal, wood, bone, and more. Killerscents is the company's incense division, carrying bulk, licensed, and its own brand of incense, as well as numerous racks, burners and tins to complement the lines. Wholesale prices start as low as $1 for a pack of cone incense, and 100 stick bundles are $2, or $1.85 each for 100 bundles or more. For retailers seeking bargains, Killerbeads also has numerous closeout and discontinued items on its Killercloseouts pages. As the year progresses, retailers will find new items in the New Arrivals sections, as well as in the company's various catalog supplements as they come out.
"Our minimum order is only $100, and six pieces per style," Mosscrop says. "Plus we can supply POP signage with our company logo and header stickers as needed." Killerbeads offers an excellent starter program for retailers who want to try out the products, for between $250 and $300. "It includes 144 pieces of our top sellers and comes with a display," Mosscrop says. "The retail return is $750 to $900." Coming up, Killerbeads is readying its summer and fall items now. "We've just added a lot of new items from Bali," Mosscrop says. These include women's shell necklaces, nice earrings, and a line of coco beads made from coconut trees. They're going to sell really well." Killerbeads usually ships orders within 24 to 48 hours of receipt. All jewelry is carded for easy display, and the company will exchange any item on request. "We work hard to keep our customers happy," Mosscrop says. "Our market is strong, even when the economy is weak."
For more information:
Killerbeads
7933 McElvey Road
Panama City Beach, FL 32408
Tel.: 850-234-6361
Toll Free: 800-399-7830
Website: www.killerbeads.com