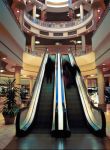 After rejecting a buyout offer from Simon Property Group, General Growth Properties, one of the largest shopping mall owners in America, is expected to announce that it will divide into two companies, in order to avoid going under. As part of the move, General Growth will accept a $2.63 billion pledge from Canadian property investor Brookfield Asset Management, Inc.
It is believed that the board of General Growth had been greatly conflicted on the Simon Property offer, whether due to hopes for a higher offer from Simon, or a rival offer from Brookfield. This apparently expected rival offer appears to be what has removed Simon Property from the equation.
According to reports, two of General Growth's top directors, John Bucksbaum and William Ackman, were in direct opposition to each other on whether or not to accept the Simon offer. The son of one of the founders, Bucksbaum preferred the more independent future a Brookfield offer might hold; while Ackman was concerned first and foremost with the company's debt. General Growth's unsecured creditors had been pushing for the buyout, as Simon's offer would not only have repaid them in full, but also left something over for shareholders.
Should the break-up take place, it would result in one large company owning almost 200 upscale shopping malls, and a smaller company with riskier holdings appealing to investors looking to gamble for potentially higher returns.