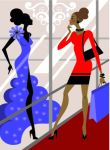 Upscale clothing retailer Neiman Marcus recently enjoyed a new surge in profit, leading CEO Burt Tansky to postulate in a Tuesday, March 9 conference call that luxury shoppers are beginning to come out of hiding.
"The aspirational customer is a little more comfortable than a year ago," Tansky said. "That customer was hit hard a year ago and vacated our stores, and we've been working hard to bring them back."
The company showed a profit in its fiscal second quarter of $4 million, as compared to the losses of $509.2 million from the year before. Management credited the profit to lower expenses, and holiday sales that were significantly improved over 2008. Customers appear to be responding well to promotions and also to be encouraged by a rebound in the stock market, although Tansky is also quick to point out that they are still not spending at pre-recession levels.
Responding to previous losses and in the face of decreased demand, Neiman Marcus had cut inventory significantly. However, Tansky acknowledges now that those cuts may have been too severe, adding that the company will be correcting that going forward. Additionally, the company is looking into opening a chain of "Last Call" clearance stories to appeal to the more middle-of-the-road shopper who wouldn't ordinarily shop at Neiman Marcus. There is also an e-commerce site planned to go along with it, which will launch in September.