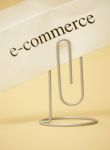 Retail marketing can be a tricky business, especially for independent retailers. And that's not made any easier by the abundance of channels and platforms in today's multimedia world. A recent survey conducted by research company Unica seems to indicate that worrying about measuring results and increasing effectiveness is pretty much universal.
The results of the survey show just how preoccupied marketers are with integrating marketing channels and turning the accumulated data into action. Concerns include the allocation of marketing budgets, which was identified as an important issue by nearly every one of the marketers surveyed. There is also a major issue–at least among two thirds of the respondents–with a reported insufficiency of IT in supporting marketing technology needs.
Marketers reported being concerned with integrating across channels, and also the obstacle posed by the need to gather information from measurement and analysis. As far as integration goes, almost three quarters of those surveyed said that they use offline data to help put together email offers, and nearly that many said they use this same data for creating direct mail offers.
This contrasts with the less than half of the respondents who indicated that they use offline data in generating onsite personal Internet offers. Nevertheless, one in five indicated they were looking into doing this within the next year.
The most interesting responses, perhaps, had to do with the newest emerging channel for independent retail marketing: Mobile. According to the marketers surveyed, this is a channel that is just now on the rise. For instance, while just over one-fifth declared that they have instituted mobile offers utilizing offline data, another fifth indicated they would be doing exactly this at some point within the next 12 months. In general, only one third of American marketers surveyed said they currently use mobile marketing. The numbers are higher among Europeans, but the Americans are catching up.
As for social media, the survey revealed that nearly half of all retail marketers currently use it. Another one quarter plan to implement within the next year, which would bring the total to nearly three quarters.
A total of more than 150 direct and online marketers were surveyed by Unica for the report.