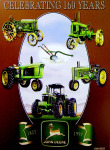 Nostalgic Images offers a vast line of decorative metal signs that includes more than 600 designs in total. Whether it's new merchandise or closeouts, the company's signs include lots of name-brand items, including Harley-Davidson, John Deere and Coca-Cola.
Among the impressive line of signs, there are a few which particularly stand out as top sellers. These include signs featuring movie stars and celebrities like Elvis Presley and Marilyn Monroe, as well as cartoon characters such as Betty Boop. Transportation-themed signs are also very popular, including signs for car companies like General Motors, Corvette, Chrysler and Ford.
The wholesaler sells to a variety of independent retailers, not necessarily just nostalgia-based stores. Gift stores, hardware stores, discount stores and many others are among the customers of Nostalgic Images. These types of metal signs are quite mainstream nowadays, and Nostalgic Images makes them even more attractive to consumers by mounting them on display boards.
"We put them in a display, and people buy them as a $10 or $12 thrill," explains Bill Westrick of Nostalgic Images. "Six-hundred designs means there's something for everybody. Hunting fishing, Jack Daniels, Budweiser are all popular. The self-serve display assures there is no scratching of the metal signs."
Nostalgic Images metal signs sell for $5 and $6 wholesale, with a suggested retail price of $10 to $15. Freight is paid for, with a minimum order of 25 signs. The company doesn't presort the signs automatically, preferring to allow the customer to pick the ones they want. The display is also offered at no additional charge. Occasionally customers will request the signs be selected for them, which Nostalgic Images is more than happy to do, based on the type of store, location, and general product categories offered.
"If they're new in the business, or don't have the time, they may ask us to choose." says Westrick. "A lot of times they'll call up and say, just give me a bunch of the new ones and the bestsellers."
The metal signs Nostalgic Images carry are in constant rotation, with 15 new designs arriving every couple of months, and older or less popular designs being swapped out.
Contact
Nostalgic Images
26012 Nostalgic Road
Defiance, OH 43512
Ph: 419-784-1728
Website: www.nostalgicimages.com