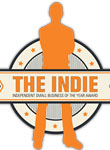 National small business movement Independent We Stand is now accepting nominations from indie shoppers across the nation for the 2012 independent business of the year award, "The Indie." Nominations are being accepted until August 17. The Indie winner will receive a new website design compliments of independent web design firm Launch Interactive, a location page with Google map integration and web traffic reporting, a STIHL equipment certificate redeemable at one of more than 8,000 local dealers nationwide, a five-minute video to be featured on the IWS YouTube Channel, and a three day/two night stay at an independent beach resort hotel in Virginia Beach. The value of these prizes totals $7,000.
Project Manager Bill Brunelle is looking forward to the second year Independent We Stand recognizes independent businesses across the country, according to Garden Center Magazine. "These businesses build communities and help revitalize their local economies. The Indie is not only a way for customers to celebrate and show appreciation to their favorite local businesses, it is a way to shed light on the benefits of buying local."
Local businesses are well-known for their outstanding community support and customer service, Brunelle reportedly said. Judging for "The Indie" will be based on these two criteria as well as number of nominations. Finalists for the prize will be selected from all nominations and voting for finalists, also at www.indiebizaward.com, will be open to the public from August 22 to September 7. The winner of "The Indie" will be announced on Sept.10.
The 2011 Indie Award winner was Georgia-based Howard Brothers Hardware. Their dedicated fans garnered almost 45,000 votes. The winners donated their website design prize to second place finisher Mummphy's Book Nook from Indiana.
For more information on "The Indie" or to nominate your favorite business, visit www.indiebizaward.com.