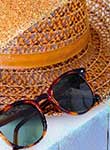 As the Northeast's largest souvenir and resort industry trade event, the Ocean City Resort Gift Show by Clarion UX returns to the Roland E. Powell Convention Center in Ocean City, MD from November 12 – 14, 2017. Custom-tailored to the specialized needs of coastal retailers from Maine to Virginia Beach, this show features more than 450 booths filled with best-selling designs, top brands, new introductions and new resources. Backed by a full range of buyer services, including discounted travel options and free parking, the 2017 edition makes it easy for retailers to maximize business travel savings and time away from their shops
"Northeast coastal retailers know this is the place to find all of their new product resources for the coming season, including countless new nautical, souvenir and resort resources and more," says Lisa Glosson, vice president, gift/souvenir division, Clarion UX.
More Nautical and Coastal Resources
The 2017 edition of Ocean City Resort Gift Show will welcome a number of new, first-time exhibitors. Among them are Aerosoft Footwear LLC, By the Bay Creations, Morgan Imports, Vintage Reef Jewelry, Wine Bottle Art, and more. The show will also feature best-selling brands and emerging leaders in every product category important to shore retailers including resort, gifts, souvenirs, novelties, licensed products, beachwear, general gift and much more.
New Jersey Retailer Program
The Ocean City Resort Gift Show will continue to offer its buyer incentive program for qualified retailers with shops in New Jersey. Participating retailers may qualify to receive a round trip ferry ride and a complimentary one-night hotel stay. For more information on this program please contact Marketing Manager, Jennifer Welborn at 678-370-0328.
Shop Local and Loyal
Attendees take advantage of terrific off-season hotel rates in Ocean City, MD during the show in November. By attending the Ocean City Resort Gift Show you're doing more than just saving on travel, reducing your carbon footprint, keeping dollars in your own East Coast region, and supporting your local sales reps. You are also contributing to the future growth and success of the East Coast resort and gift retail industry. To learn more about the show visit www.oceancitygiftshow.com.