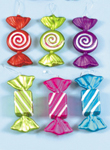 The holidays bring more than gift givers to your checkout counter, including seasonal enthusiasts looking to decorate in celebration. Seasonal merchandise has come a long way from tinsel and Easter egg grass; it now includes housewares, giftware and accessories needed for an extreme seasonal home makeover. To ensure record sales, especially when competing with big box retailers, independent retailers are best advised to stock their shelves with a large quantity of unique and discounted items for the holiday season. "Besides the customer traffic it generates, seasonal merchandise generates some extremely high margin sales," says Heather Roggen, seasonal manager for the Chain Drug Marketing Association. Michael Schecter, VP and owner of Amglo, Inc., a seasonal merchandise wholesaler, would have to agree, as the company has found a successful niche in providing seasonal merchandise to dollar and discount stores. "Customers are looking for traditional and new items at low prices," he says.
Last Minute Holiday Buys and Early Spring Shopping
With most of Amglo's catalog items retailing for $1 to $3, customers can meet their decorating and gifting needs and still have enough money leftover for other expenses. Retailers will also benefit from a profit of keystone or more after purchasing at a wholesale cost between $0.55 and $1.50 per item. Many people were enjoying the fleeting days of summer and crisp, new days of fall, when wholesalers and retailers began adding holiday themed kitchenware, ornaments and giftware to their inventories. And while the holiday season is now well underway, Schecter has a solution for those retailers still looking to fill shelves with holiday merchandise, noting, "Amglo is a one stop shop for decorations, stocking stuffers, and wrapping, allowing for easy and fast shopping for those retailers who may need to restock, or looking last minute to add to their inventory." The $1,500 minimum is easily met with the purchase of gift tags, angels, bows, bulbs and more, and seasonal shoppers will be happy to see that all of their seasonal merchandise needs have been met.
While Black Friday and beyond into the new year is undoubtedly prime retailing time, the spring season and all its associated and celebrated holidays aren't far behind. "Retailers should keep in mind that seasonal merchandise is in a constant cycle. Those looking for Valentine's Day, St. Patrick's Day, Easter and Fourth of July merchandise should think to prebook their orders," Schecter says. Again, Amglo offers an assortment of decorations, giftware and more in these seasonal categories, whether in an Easter basket, a heart shaped balloon, or green leprechaun beads. "To help in meeting the minimum order, we offer spring and summer seasonal items simultaneously, and ship them at the same time," notes Schecter "We pride ourselves on the quality of our products, excellent customer service, and quick response time." With merchandise from Amglo, retailers will help their customers mark and celebrate multiple seasons and holidays.
For more information:
Amglo Inc.
P.O. Box 12722
Philadelphia, PA 19134
Tel.: 215-423-8060
Toll Free: 800-692-6456
Website: www.amgloinc.net