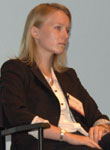 As an independent retailer, you need to know how your customers are finding you and actively manage those resources. Consumers are looking for local businesses in hundreds of places, often online and through mobile apps, and it can be challenging to supervise your presence in directories and review sites while at the same time running your business. To help small business operators sort through their options and establish a winning game plan, a panel of experts shared their insights on this topic at the recent Online Marketing Conference, presented by DNAinfo.com, New York's neighborhood news provider, and Street Fight, a source of information and community for the local marketing industry. Panelists included Daphne Earp (left), VP business development at Yext; Robert Cullen, VP sales at CityGrid; and Harry Kurland, sales manager at Yelp.
"Even when searches start on Google, they may end up on a different search directory," Earp of Yext pointed out. "It's important to be on all of them." And, even more important, data must be up-to-date and complete, she added. Yet, with around 400 online directories out there, keeping information fresh, including phone number, hours of operation, special offers, events, merchandise and more, can be daunting. Yext is a service that acts as a central system for local search and guarantees the right information appears on multiple search networks, Earp explained. It also provides analytics. The website has a free and easy tool so retailers can see what their business looks like across networks. "By 2015, mobile searches will overtake the Web because your mobile device knows where you are," she noted. "The space is going to become even more fragmented, which means small business owners need to be everywhere." Case in point: Apple just launched Maps, which offers turn-by-turn spoken directions, interactive 3D views and the Flyover feature.
With this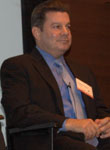 expanded directory activity, "the ability to manage directories from one single point is important," agreed Cullen of CityGrid (left). The organization helps small businesses manage their presence and promote their businesses across hundreds of local review sites, search engines, yellow page directories and mobile apps. It also has reporting tools to monitor reviews and track phone calls. "People rely on the directories for reviews and content," Cullen stressed. "It's important for local businesses to maintain these pages and to drive customers to write reviews."
While Yext and CityGrid work with multiple directories, Yelp is a single review site with 78 million monthly users. "It connects people with great local businesses," according to Kurland of Yelp (left). The sit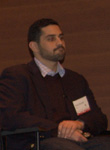 e can be accessed from a desktop and mobile app for the iPod, iPhone and Android. Retailers can sign up for free business owner' accounts, enabling them to respond to join the conversation by posting feedback and public comments that will increase exposure. Not only are reviews important from a consumer's standpoint, they also help get your business indexed with search engines, Kurland shared.
Today, when consumers want information about local businesses, from location to customer reviews, they are going online. And this practice of online searches for offline businesses is only getting more common. To take advantage of this opportunity to bring in new business, independent retailers must develop a strategy to manage their presence among the vast array of directories and review sites.
For more tips to grow your business, from Google pro Alex Abelin, click here.