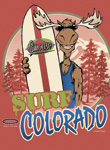 SMACK APPAREL has been creating a line of unlicensed tee shirts for sports fans since 1998. The company designs shirts with clever sayings based on pop culture and sports, explains owner Wayne Curtiss. "We do a lot based on rivalries," he comments.
Parody sells
One of Curtiss' first targets was Steve Spurrier, the University of Florida Gators coach. A Seminoles fan and graduate of Florida State University, Curtiss decided to make a shirt that poked fun at Spurrier with a quote from Will Rogers. The front of the shirt reads, "I never met a man I didn't like," and the back continues with, "Will Rogers never met Steve Spurrier." One of the most popular sellers is a parody of the Dos Equis "Most Interesting Man in the World" commercial. "I don't often hate, but when I do, I prefer to hate the [team]," the front reads. On the back, it says, "Stay victorious, my friends."
Resort line
With the success of Smack Apparel's satirical tee shirts, the company is introducing a new line of comfort wear for men, women and children that will be sold in ski resorts and retail shops. "I wanted to put a twist on our shirts and enter the resort market," Curtiss shares. "We came up with around a dozen designs, many of which can be name-dropped, that have new characters and funny sayings. We're pretty excited. The resort decision makers have told us they love what we're doing."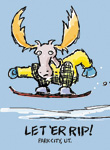 As part of the new line, the company is introducing a fun, lovable moose character, dubbed Smoose. "We play off of things of which people are aware," Curtiss points out. Everyone knows the red Solo cup, he adds, so Smack produced a tee shirt with Smoose holding a red beverage container. It states: "99 problems but the moose ain't one." The company is also producing kids' shirts featuring a youthful moose character. One shirt depicts a young Smoose on a snowboard and says, "Let 'er Rip." "We think moms, dads and grandparents will love them," says Curtiss. Smack Apparel is also introducing several designs without Smoose. The resort tees wholesale for around $8.50, and retail for $18 to $21 each.
Outstanding quality
Smack Apparel designs and prints its shirts in Tampa, FL. "We use a very good quality tee shirt, which is double stitched, 100 percent cotton and weighs six ounces," Curtiss remarks. "We have great colors and our printing is exceptional." The company also creates custom designs for retailers. "We are known for putting on our creative hats and coming up with something special for our customers," notes Curtiss.  The minimum order for a custom project is 72 shirts, and a name-dropped order is 48 pieces; for a single design in stock the minimum is 12 shirts.
Where to buy:
Smack Apparel
2310 W. State St.
Tampa, FL 33609
Toll Free: 877-762-2511
Visit:
Smack Apparel