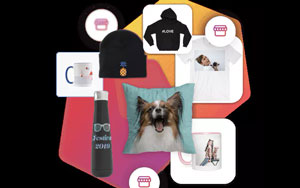 In order to compete with Amazon, brands and retailers are turning to print-on-demand manufacturing. This process, also called cloud manufacturing, emerged over the past decade and is beginning to revolutionize the supply chain industry. Driven by the explosive growth of ecommerce and shifting consumer preferences, the global cloud manufacturing market is expected to reach about $112 billion by 2024, growing at an astounding 20 percent annually.
Print-on-demand manufacturing is a process where goods are produced only when they are needed and in the quantities required, unlike traditional manufacturing which requires large quantities of products to be made and then stored in facilities until they are ready to be shipped. Cloud manufacturing offers greater flexibility and the ability to produce one-off orders, eliminating the need to hold costly inventory and offering retailers more opportunities to create unique, specialized merchandise.
Competing with Amazon
"Print-on-demand manufacturing provides a huge advantage for small retailers to compete with retail giants such as Amazon because it allows them to concentrate less on logistics and focus on what they do best — designing, marketing, and selling," Mark Kapczynski, Chief Marketing Officer for Gooten, said. "On-demand also provides an opportunity to easily test new ideas and designs in a cost-effective way. This is particularly beneficial for smaller brands because they can go to market quicker and with less risk. With POD, as well, once the item(s) are produced, they are drop-shipped globally to the end consumer."
Increase Sustainability
"Consumers are more eco-conscious than ever before, and print-on-demand is the perfect process to help your brand offer a more sustainable business model. It is innately anti-waste, where customers order the exact number of products that they need, and you print that precise amount. In other words, there is no need to worry about generating a surplus of materials or overestimating customer demand. Because print-on-demand does not require holding inventory, businesses will not run the risk of having loads of unsold products that eventually find their way into a dumpster or landfill," a spokesperson for Gooten said.
Especially in the fashion industry where styles and trends rapidly shift, traditional manufacturing can lead to overproduction. If a retailer does not properly estimate merchandise demand, unsold inventory can end up as landfill waste. According to BOF, almost 87 percent of textiles end up in landfills or are incinerated, with less than one percent of materials produced for clothing recycled, representing a "lost opportunity" of more than $100 billion annually.
Get Personal with Your Customers
"For independent retailers that want to offer more unique products, they must turn to personalization. Print-on-demand makes adding personalized products a breeze because orders are only created once they are purchased. Personalized items make for a more memorable gift-giving experience, especially during the holiday season," a spokesperson for Gooten said.
There are many different perks that indie retailers can gain from cloud manufacturing. In order to turn over a new leaf in 2022, look into this manufacturing process for your business and start reaping the benefits today.