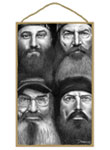 SJT Enterprises, a consumer products company that makes all its goods in the USA, has introduced decorative wooden plaques that feature the likenesses of the four guys from the super hit television show Duck Dynasty. The plaques feature the artwork of Rick Fortson. "Artist Rick Fortson's renditions of Phil, Willie, Jase and Uncle Si is incredible," notes SJT president Tim Smith. "When I saw his art, I knew it would look great on the wood plaques SJT produces."
The smaller plaque measures 5 by 10 inches and wholesales for $2.97. The larger plaque is 10 by 16 inches and wholesales for $7.49. Retail is $7.99 and $19.99, respectively. SJT's minimum order is $100, and shipping is 9 percent of any order within the Continental US.
SJT will be exhibiting at the Surf Expo Show January 9-11, the Sports Licensing & Tailgate Show January 16-18, the Global Pet Expo March 12-14 and the ASD Show March 16-19.
For more information:
SJT Enterprises Inc.
Tel.: 440-617-1100
Website: www.GreatStoreStuff.com