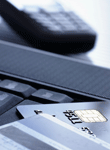 The only way to keep your small business growing is to keep up with the technological updates that are making your customers say, "WOW," and open their wallets. Previously reported on blog.wholesalecentral.com, the increasingly adopted technology of mobile barcodes is being used by many marketers and retailers as a means to create and manage measurable 2D barcode campaigns, extending brand engagement to consumers' smartphone enabled lifestyles. However, mobile barcodes aren't the only smartphone technology benefiting independent retailers. Google's soon to be unveiled mobile payments platform is just another step towards retail on-the-go.
Mobile Payments Platform Details
Google's latest technology update, called near field communication, is expected to power consumers with the capability to make store purchases, redeem coupons, and receive loyalty points all with wave of their smartphone. Retailers just need to showcase the necessary reader at their checkout counter. Although the payment platform is only available to those with a mobile phone running Google's Android software, it's a technology sure to catch on with other operating systems, as customer demand and retailer participation increases.
Essentially, the software offers credit card capabilities, as well as an account management system. However, more importantly for retailers, as The Wall Street Journal reports, "The planned payment system would allow Google to offer retailers more data about their customers and help them target ads and discount offers to mobile device users near their stores. Google, which hopes to sell ads and discount offers to the local merchants, isn't expected to get a cut of the transaction fees." For more information on the technology and usage of Google's mobile payment platform, click HERE.