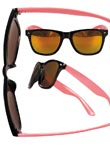 Pacific Link Wholesale Sunglasses, established in 2001, designs and wholesales a vast array of sports and fashion sunglasses. From shatterproof to chic, original, high quality styles are offered at the most competitive prices, says David Chen, president. Pacific Link's main sports sunglasses lines are ELEMENT 8 and VERTX, and its popular fashion brand is VOX. The company's products sell well in all kinds of shops, from convenience stores to upscale clothing boutiques.
Best selling shades
Sports sunglasses are popular with consumers all year long, and Pacific Link continually expands its selection to meet demand. Sports sunglasses with white frames and color reflective lenses are especially hot for both summer and winter activities. In the firm's VOX line of fashion sunglasses, retro Wayfarers reminiscent of the 70s and 80s are this year's front-runners. Clubmaster, a colorful wayfarer made of plastic and metal, is particularly popular, and rhinestone and multicolor styles are also strong sellers.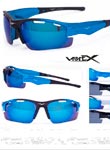 "We recently introduced 'Outdoor Camo' camouflage sunglasses for hunting and fishing in our VERTX brand," Chen remarks. "We have designs that are unisex, as well as some looks that are just for women. The camo line has been extremely well received, and the first batch sold out very quickly."
Polycarbonate lenses are shatterproof and standard on all of Pacific Link's eyewear. The company also offers polarized lenses, which are gaining popularity, according to Chen. "Basic sunglasses give 100 percent UV protection, but they do not block glare. When people are fishing, for example, there is a lot of glare from the water's surface. Polarized lenses block the sun's reflection so fishermen can see the water."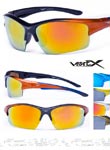 Pacific Link Wholesale Sunglasses is dedicated to researching fashion trends and producing predictably popular sunglasses. "We study Hollywood fashions and color trends, and we offer simple yet stylish designs for everyday wear," Chen continues. "We design best sellers that consumers will choose and wear daily."
In addition, the company offers high quality products for the lowest prices. "We are essentially direct from the manufacturer, because we have established long term relationships with factories in China and Taiwan," Chen points out. "We have a team in China that monitors quality control."
Ordering highlights
Retailers are assured extraordinarily high profit margins. "Our sunglasses offer retailers one of the best profit margins of all types of merchandise," Chen adds. Pacific Link wholesales regular sunglasses for $2 to $4 a pair, with an average retail price of $15.99. The firm's polarized sunglasses wholesale for $38 to $78 per dozen. The minimum order is $200, and quantity discounts are available.
A variety of point-of-purchase displays are available for sale, from counter units holding 24 pairs to floor stands that display 176 pairs. Pacific Link has a fully functioning eCommerce website, and buyers may visit the site to obtain product details and place orders by phone.
Where to buy:
Pacific Link Wholesale Sunglasses
1223 Coronet Drive, Suite 3
Dalton, GA 30720
Toll Free: 866-824-0079
Tel.: 706-275-0079
Website: www.sunglassespacificlink.com