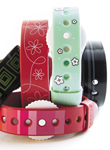 Psi Health Solutions offers a stylish alternative to drug based treatments for nausea, especially resulting from morning sickness, motion sickness, chemotherapy, and anesthesia. Psi Bands are fashionable, watch like adjustable bands that apply comfortable pressure to a spot two and a half finger widths up from the wearer's wrist crease. Put on at the first sign of nausea and worn on both wrists, the product relieves unease and discomfort in the upper stomach area.
The effectiveness of the science behind the product has been confirmed by research studies. The company cites six academic papers printed in scientific journals, as well as the anecdotal testimony of many satisfied customers, including the two moms who started the business. The bands are available in five styles (two are gender neutral), in red, green, and black. A white dial allows the wearer to vary the intensity of the pressure provided. They are waterproof, reusable, and fit most wrists. Unlike anti-nausea drugs, the product is noninvasive, easy to self administer, and affordable. The name, "Psi," comes from the acronym, "pounds per square inch," and is pronounced, "sigh."
Psi Bands use biocompatible materials, minimal packaging, and water based inks to make the product as eco-friendly and socially conscious as possible. One dollar from the sale of each of the green style band is donated to a charitable partner, Fertile Hope, which helps cancer patients and survivors whose cancer treatment has contributed to infertility. The wholesale price is $9.99 per unit with a minimum of 12 units. The suggested retail price is $14.99 to $19.99. There are two Psi Bands per unit.
Different colors and private labeling are available.
For more information:
Psi Health Solutions, Inc
1013 Morse Drive
Pacific Grove, CA 93950
Tel.: 831-373-7712
Website: www.psibands.com