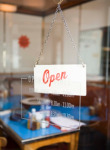 A small campaign to help local retailers has apparently turned into a national effort that's gaining steam. The 3/50 project urges shoppers to spend $50 every month at three local businesses in order to help keep them alive and thriving. If those with jobs did so, projections say nearly $43 million in revenue would be generated locally, nationwide.
According to RetailWire.com, "The project is offering small businesses free flyers, window banners, counter signs and window clings, help with web sites and links to support the cause."
For more on this story, click HERE.
To read more about The 3/50 Project, click HERE.