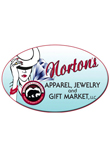 Independent retailers know the value of shopping small and the charm of a family business. That's why The Norton Shows are a must-attend family-fun trade show. Originally founded by Linda and Tom Norton in 1987, The Norton Shows are now owned and operated by their daughter Nikke Norton and grandson Hunter Norton Johnston. Hunter tells Independent Retailer that his brother, Denver, has also recently graduated from school and joined the family business.
Now in their 31st year of business, The Norton Shows are well-known industry events specializing in women's and children's apparel and accessories, fine and costume jewelry, and much more. Hunter says no two shows are identical, though buyers can often find wide selections of gift, floral, spa and beauty, and wellness products like essential oils in addition to the women's and children's collections.
A picturesque vision of southern charm, The Norton Shows are "nestled at the foothills of Great Smoky Mountains National Park," says Hunter. Between eight and twelve million people visit the family-oriented city of Gatlinburg every year. "Our shows are a great mix of business and pleasure," says Hunter.
Southern hospitality can also be found within the show itself. "We really like to give everyone a good experience here in Gatlinburg," says Hunter. "Our customers always come first, and we try to make our show as fun as possible." And the proof is in the pudding. Many of the buyers and exhibitors at the Norton Shows have been attending for years, coming back for the mixture of business and fun.
Norton Shows are only open to retail buyers. "We're really heavy on cash and carry," says Hunter, "So buyers can purchase on site and take products home immediately, which people love." Many of the exhibitors also take orders. Norton Shows are held four times a year, every March, June, September, and November. Visit www.nortonshows.com for more information.