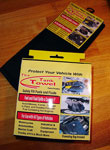 Vehicle enthusiasts searching for a solution to their "splash back" problem when fueling their cars, need look no further than The Tank Towel. Splash back is fuel splatter as a result of the force of the nozzle shutting off when the tank is filled. The caustic fuel that contacts painted surfaces damages the clear coat and eventually the paint. "Gradually the finish will be dull and yellow," says Mark DaSilva, president of Am-Mar Innovations, Inc. A vehicle enthusiast himself, having experienced splash back and dripping when refueling, DaSilva came up with the concept of a towel with a hole to pour through, protecting the surrounding areas of the gas tank opening on vehicles and boats.
To achieve optimum results, a fuel extrusion which fits most fuel tank openings is included in each Tank Towel kit, to hold the towel in place while providing an extended opening for ease of filling. "Insert the small end of the extrusion or funnel into the hole in the towel, then into the container opening. The extrusion will fit snug in the towel hole, so there is no need to remove it with each use. Spread the towel over the surrounding area, or wrap the towel around the nozzle or funnel for even better protection," explains DaSilva. "Pump or pour the liquid fuel through the extrusion or funnel." The towel collects any splashing and dripping that occurs when removing the nozzle. The towel and extrusion can be stored neatly away in a nylon or velvet carry bag provided with each kit.
The Tank Towel can be used when transferring fluids of any liquid or fuel to machinery, including automobiles, motorcycles, boats, tractors, and more. "The Tank Towel even has a green factor in regards to boating, by helping users avoid spilling fuel into the water," adds DaSilva. If the fuel extrusion is too large for the intended opening, one can merely replace it with an appropriate sized funnel. Retailers looking to purchase the standard line can order per dozen, per half case or per case, which contains 192 units, wholesaling for $6.50 apiece. Each kit retails between $14.95 to $19.95. Tank Towels can also be customized with a logo or promotional message. "Customized Tank Towels usually retail for higher, around $19.95 to $24.95," says DaSilva.
For more information:
Am-Mar Innovations, Inc.
Tampa, FL 33604
Tel.: 813-486-0171
Website: www.thetanktowel.com