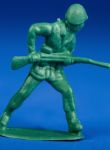 In the toy business, there's one trade show that stands head and shoulders above the rest, and that's the American International Toy Fair—which will be returning to New York's Jacob Javits Convention Center for its 107th annual installment beginning Sunday, February 14, and running through Wednesday, February 17.
The largest international toy show in the Western Hemisphere, Toy Fair is the place to find all the newest and hottest products. The event also serves as a prime meeting place for those within the industry, from manufacturers and retailers to importers and licensors. All told, more than 100,000 of the latest items are expected to be exhibited, with more than 20,000 people coming to check it all out.
Naturally, as in most years, the majority of the toy product consists of licensed tie-ins to movies, TV shows and entertainment characters in general. For example, this year's hot commodities include Toy Story 3, Iron Man 2, How to Train Your Dragon, Twilight, Harry Potter and Dora the Explorer.
"There are fewer 3-D films with toy opportunities, but there will be a lot of sequel or legacy film product," said Toy Industry Association spokeswoman Reyne Rice. "Toys for sequels usually sell better. Retailers, for example, will support Iron Man 2 more, because they know how well product for the first one did."
It's estimated that roughly one quarter of all toy dollars each year go for licensed product or other similar tie-ins. In 2009, that came to about $5.4 billion. With toy sales last year declining a mere one percent despite the recession, experts are optimistic for the industry in 2010. This sentiment is bolstered by the fact that unit sales rose four percent during the holiday quarter.