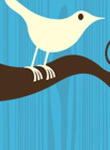 Marketing via the popular social networking service Twitter comes with a bit of a caveat. The problem has been that the very nature of Twitter's ongoing feed means that any individual tweet only remains at or near the top of a user's page for a relatively brief amount of time, depending on how many other users they follow. Twitter may be a great tool for short-term and last-minute marketing, but so far it's been a challenge to create any sense of permanence to the messaging.
But that may be changing now, with the announcement by Twitter of the introduction of "Promoted Tweets". Promoted Tweets will allow advertisers to select keywords they want their marketing messages to appear under, so that when Twitter users do a search for those particular terms, the specific tweet provided by the company will appear at the top of the page–similar to "Sponsored Links" on Twitter.
"Brands have been diligent about trying to abide the rules of engagement in social media," says social media strategist Alisa Leonard-Hansen. "Whether on Facebook or Twitter, everyone has been respectful of the space, tried to engage in honest dialogue, be transparent and build a significant amount of trust. Your keyword bidding strategy in Twitter will probably be different from what it is in Google. You'll have to be more conscientious about what you're bidding on in that space."
With regard to that point, will users balk at the interjection of direct marketing messages in their Twitter searches? That remains to be seen. Some fear it could lead to public rejection similar to that of Facebook's 2007 Beacon program, in which the social networking giant attempted to monetize its own users by advising their friends of recent purchases from third-party sites–which users regarded as a blatant invasion of privacy.
Twitter will clearly mark the tweets as being "promoted", and mark them off with a separate background color. Only one Promoted Tweet will appear in each Twitter search result listing. As of now, they are limited to marketers from a specific group of brands, which includes Best Buy, Starbucks, Sony Pictures and Virgin America. Each will each pay per-thousand-impressions. It's expected that Twitter may begin auctioning keywords in a wider arena, if this preliminary experiment is deemed a success.