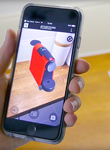 Augmented reality (AR) – don't think it's for you? You might want to think again. Recently, Independent Retailer's Meaghan Brophy sat down with Caspar Thykier, CEO of Zappar.com, to learn more about how the company's AR platform can help retailers large and small to grow their income and generate additional foot traffic in-store.
How does it work?
Zappar has developed software that allows retailers to create AR content that is linked to their store or to specific products. Shoppers can download the app (it's free) onto their smartphones to access the AR via scanning a zapcode – similar to a product QR code – to unlock the AR content. For retailers, the possibilities are endless, and allow each store to create their own specific content to reinforce the store brand, promote a coupon or discount, or just create excitement around a marketing or advertising campaign.
As an example, a skatewear retailer in the US wanted to run a promotion that would boost engagement with their shoppers. They developed the idea of an in-store scavenger hunt. Shoppers downloaded the app – branded with the store's name, and started playing by scanning a zapcode inside the store. That first zapcode, together with their smartphone camera, gave each shopper the ability see the AR content created by the store's team, including a dancing animated hotdog, product-linked cartoons, and a coupon for a product purchase. Over 80% of the coupons accessed were used in-store — a huge home run for the retailer, and a great way to create buzz and engagement for the store.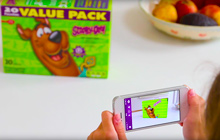 Through the AR platform, retailers can create any type of AR experience wanted.
The platform allows retailers to create, edit and monitor the AR experiences, and each zapcode can be something as simple as a logo, custom design, or image. The platform can be used to promote a loyalty program, a fun contest like a scavenger hunt, or it can simply focus on a product you're trying to promote.
Nespresso®, the coffee machine company, developed a Zappar AR that allows their customers to virtually see how one of their coffee machines would look in their own homes. Shoppers scan the product zapcode, then while in their own home, use their mobile phone camera to scan their kitchen counter space and virtually 'fit' any of the company's coffee machines on the counter. The shoppers can then choose which machine best suits their needs by toggling through the different machine choices, and make their purchase.
Company CEO Caspar Thykier offers two basic tips to retailers considering adding AR to their store's portfolio or promotions: to make your AR campaign successful, create a zapcode that can be easily discoverable and accessible (think fun and simple), and secondly, be sure that you're focusing on a great value proposition like a solid store discount, a dollars-off coupon, or a heft number of loyalty points added to your loyalty program. After that, the sky, or rather your imagination is your only limit. For more information on Zappar and the company's retail solutions, check out the company's website at www.zappar.com/solutions/retail.