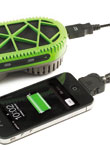 Energy companies continue to investigate new ways to power our daily lives, turning to wind and solar energies as alternatives to fossil fuels. While cars are making a shift to electricity in place of gasoline, engineers are actively looking for technologies that free consumers from the need to plug into electrical outlets when charging electronic and mobile devices. Developers have already harnessed solar power for this purpose, going so far as to offer this convenience in the form of a keychain charger. These devices are of particular appeal to emerging markets and outdoor enthusiasts, as well as to those interested in clean energy, but even they still rely on optimal weather conditions. In January 2013, however, Americans will have access to PowerTrekk, the world's first portable fuel cell charger that runs entirely on water, delivered by Swedish fuel cell pioneers, myFC.
The company was founded in 2005 with the successful development of a fuel cell able to efficiently convert gas to electricity. "The first problem we solved was the gap between energy sources and cellular phone batteries, which couldn't keep up with the amount of energy that the end user consumes through Facebook, emails and so on," myFC CEO, Björn Westerholm, explains. "We defined this as the 'power gap.'" In light of the fact that lithium ion batteries have been at a plateau for many years, he knew the firm would be unable to bring a higher volume of power to that type of battery. Westerholm says he needed to find a way to help consumers live more efficiently off the power grid. "We decided that if we took the technology we had and packaged it in a charger, we could make it such that people could be on the go, without being strapped to a wall." By running off water instead of electricity, myFC has contributed to closing the power gap.
PowerTrekk is a combination portable battery pack, water tank and fuel cell with a "puck" component, all of which fit in the palm of one hand. By filling the PowerTrekk with water and connecting it to any USB mobile charger, whether a USB lamp, GPS or phone, charging begins automatically and shuts down once it has finished. The device has a lighted display on one side that indicates the level of power delivered. PowerTrekk can be operated without the puck, because it also contains an internal battery. The suggested retail price for a PowerTrekk is around $257, and the puck is just under $4. "This is a green product, because the only waste from it is water," Westerholm points out. "When you are on the go you can always find water. It doesn't matter if you have fresh water or salt, any type is good. It is green even in terms of construction, because we don't need to use very much material to create sufficient power." Following on the heels of PowerTrekk, Westerholm foresees the market leaning more towards tablet advancements. "There is a different usage pattern going on," he remarks. Although users don't need as much power for a tablet as for a cellular phone, it is the avenue myFC is considering with its next technologies.
For more information:
Industrial Revolution (myFC U.S. Distributor)
5835 Segale Park Drive C
Tukwila, WA 98188
Toll Free: 888-297-6062
Tel.: 425-883-6600
Website: www.industrialrev.com