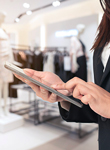 By Cathy Donovan Wagner
Amazon is huge. They did $107.1 billion in sales in 2015 and another $135.99 billion in 2016. That is 27 percent growth over the year before. A few more facts: 43 percent of all online retail sales in the US went through Amazon in 2016.
We know that they have all but mastered online sales and with their purchase of Whole Foods, they are now after brick and mortar sales. If you think Amazon is stealing your business, you have lots of company. They're a behemoth that has completely changed how consumers think about shopping.
But the truth is that if you're losing business to them, it is only because you are letting it happen. Sure, Amazon is gaining market share at a ridiculous rate. But, you can keep business by taking a clear-eyed look at what Amazon is doing… and not doing. By taking a scholarly look at the ecommerce company, you can grow your sales exponentially.
To start, let's THANK AMAZON. There are two reasons for this.
1) Amazon killed bad retail.
Many marginal stores have gone out of business and while they were sinking waved the "It's Amazon's Fault" flag. The reality is that these stores weren't doing many things well already. Those retailers found an excuse and decided to quit. That is great for you because it reduced competition and made the retail pie smaller for your business.
2) Amazon leaves a gaping void in the shopping experience.
I talk about Amazon on stage at trade shows and I'll ask retailers to mention the last thing that they bought from Amazon. The transactions are always described with words like "clicks, fast, no emotion, easy, quick." None of your raving fans would describe shopping at your store like that! They would use words like "fun, exciting, personable, interactive, joy-filled." Shopping in your store allows you to fill Amazon's gaping void, that big hole of no experience, with a delightful experience that your raving fans will crave again.
Now what can we learn from Amazon? What do they do well? What Amazon does best is that they know their customers. Clients of mine argue back, "Amazon does not even talk to customers they way I do." That is precisely true — which is why there is no excuse for you to not use these strategies.
Amazon uses their statistical knowledge of customer purchases to entice their customers to buy more. They know how to determine what customers want – even before the customer knows what they want. 33 percent of their total sales come from the items listed after these phrases: "Frequently bought together" and "Customers who bought this item also bought."
They know how to add on better than you do. However, you have an incredible advantage that they don't; your raving fans are right in front of you! You can see what they are buying. You have the easiest opportunity ever to add on to the sale – and provide better customer service at the same time.
You know what else complements that item; what necklace matches that dress beautifully; what additional accessory creates a whole different look to an outfit; what adorable rattle can be tied on top of that shower gift to make their gift stand out in the pile.
You have been talking to your customer for the last 30 minutes – have you asked enough questions to find out what other needs they have coming up? Any birthdays? Are they set for the next holiday? "How can I help you with that?"
The easiest way to increase sales is to sell more to your customer when they are right in front of you. But so many sales people are just "happy with the sale." Give your team a goal for a certain number of items per sale. Measure their performance and then you will be able to improve it. Use the example above to help increase your team's skill at adding on and you will see your sales explode.
Finally, Amazon really is not that scary. What percent of total retail sales are done online? Take a guess. People often say 40 percent or 25 percent. The answer is less than 9 percent. There are so many more sales for you to make by focusing on creating a joy-filled experience and add-on sales.