by Kevin Zimmerman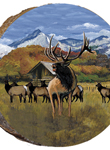 Estes Park Colorado's Rocky Mountain Treasures manufactures wooden discs in a variety of themes for souvenir stores nationwide. The discs are roughly 4 inches in diameter and about 3/8 of an inch thick, and are hand-cut from felled pine trees to avoid negatively impacting the environment.
Featuring designs by local artists, then sealed with a polyurethane sealant, each souvenir is strung with hemp rope and is marked with authentic "Made in Colorado" tags. All souvenirs can be personalized to any specifications in color and style.
RMT currently sells about 2,000 items a week, all within the U.S.; their weight makes international shipping costs prohibitive, though owner Bill Walters says he could make exceptions in the future if such costs can be ameliorated to mutual satisfaction.
Such success is made all the more impressive by the fact that RMT has been around for just five years and, even more importantly, began as what Walters says was "a fluke."
"My wife was at that time working for a gift shop in town, where an elderly man was hand-painting agate stones as souvenirs," he explains. "When his health took a turn, she asked if I could help them out in a jam. I did, and they began to sell quickly."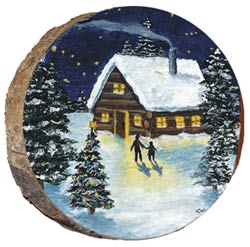 Now Rocky Mountain Treasures produces souvenirs with a variety of designs, from western wildlife (wolves, bears, elk and the like) and plants to scenery, state flags, religious scenes, and a host of other themes. A particular specialty is its customizing business, which often involves contacting rustic and/or historic hotels and other such buildings that appeal "to people looking to commemorate their visit to a particular place," per Walters.
"A lot of the time people choose their destination at least in part for where they'll be staying," he adds, pointing to Estes Park's own Stanley Hotel as a prime example. The 140-room Colonial Revival hotel, which opened in 1909, served as the basis for the famed Overlook Hotel in Stephen King's novel The Shining. Most of RTM's Stanley Hotel designs – which carry an $18 retail price – highlight various views of the Stanley, though there is one featuring a blood-red "Redrum" message.
"We research different tourist sites and determine what's popular in a particular town or area," Walters explains. They work with gift shops in those areas to determine interest in their product, occasionally offering some free samples to get the wooden disc rolling. One such example are the four "Antler Arches" that stand at each corner of the George Washington Memorial Park in Jackson, Wyoming. Consisting of elk antlers that people can enter the park through, the Arches have long been popular attractions, and RMT again offers several seasonal depictions, priced at $9.95, as are most of its non-Stanley Hotel products.
Rocky Mountain Treasures' newest offerings will involve charcoal sketches of landscapes, wildlife and so on, likely again priced for stores at $9.95 each. Though there is no hard "minimum order" requirement, Walters adds, he prefers orders of at least 10 per design.