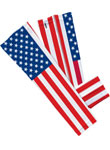 Sleefs wants your arms, or at least the outside of them. Headquartered in South Florida and founded in 2012, Sleefs offers a line of popular compression sleeves. The sleeves are similar to the ones athletes use to prevent cramping and to stimulate blood flow in hard-working limbs. They are available in a range of custom designs, or branded with leading sports teams.
"The company started when our co-founder began creating country flags for compression sleeves that he sold online or at tradeshows," says Jaime Schuster, CEO of Sleefs, LLC. "It started growing from there, and now we've moved into a whole line of compression clothing." The Sleefs product line includes the popular arm wear, plus compression shirts, headbands and kids' items.
With World Cup excitement mounting, Sleefs has recently signed an official agreement with major soccer teams to offer logos of some of the world's largest soccer clubs. "We've got the U.S. national team, as well as Brazil and Mexico and other big teams like Manchester United," Schuster reports. Sleefs also offers a complete line of flag sleeves from countries around the world, as well as U.S. states and a series of custom designs such as barbed wire and other graphics.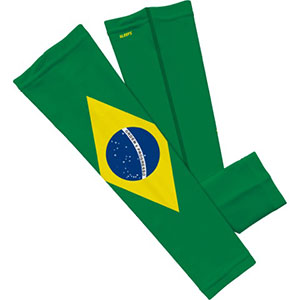 Schuster recommends Sleefs for two types of customers. "The first are athletes who use them for the benefit of compression. Compression sleeves prevent muscles from cramping, and keep the arm warmed up so it doesn't go cold. Athletes use them after games because they relax muscles slowly." Sleefs also has a line of gear aimed specifically at runners. The second type of customers, "think they're fun and like to represent a country or their favorite team."
Sleefs can also special-order and design custom sleeves. Because of the range of potential customers there are a number of retail opportunities, Schuster points out. The product sells well in sporting goods stores, including shops devoted to running or biking, as well as souvenir and tourist shops. Sleefs also do well in toy stores or child apparel shops, because, "kids love them."
Buying details
Sleefs are available wholesale through the company's website, or via phone and email. Wholesale pricing is available on minimum orders of 50 pairs or more. Wholesale pricing is flexible and starts around $10/pair for a minimum order, with negotiable discounts for larger orders. The recommended retail price for compression sleeves is $24.99/pair, or $14.99 for a single-arm sleeve for country flag designs. Pricing is the same for World Cup designs.
Sleefs, LLC
934 N. University Drive, #431
Coral Springs, FL 33071
Toll Free: 844-475-3337
Website: sleefs.com