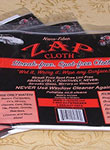 Zap Cloth from Kaywos Inc. is a revolutionary product that leaves any non-porous surface free of dust and grime, including glass, mirrors, floors, counters, stainless steel, TV, computer screens and more. The cloth is an easy sell, because it works with water alone, so users never have to buy polish, glass cleaner or paper towels. One cloth can clean an entire home or large area, since the fibers will not transfer dirt from one surface to another. The product is machine washable and reusable, making it environmentally friendly, and cuts cleaning time by 70 percent. Zap Cloth also can be used on cars, RVs, motorcycles, boats and airplanes. Whether employed in the home or office, or for demanding industrial jobs, Zap Cloth leaves any surface streak free. It is made of an advanced generation of microfiber cloth called Zezo-Fiber®, that contains no chemicals. Kaywos was founded in 1999, and has been the exclusive supplier of Zap Cloth since 2011.
High profit margins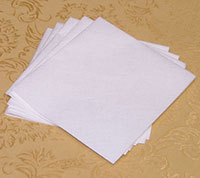 "We have hundreds of distributors across the country making a lucrative income with the Zap Cloth," owner Bryan Pinkham reports. "Sales are exploding, and with a markup of 300 and 400 percent, there is great potential for retailers to have a thriving business. Zap Cloth builds a large repeat customer base because once people use it, they never buy anything else to clean with." Zap Cloth has a one-year warranty. However, no one has returned one for wearing out in that time, Pinkham adds. "People get their money's worth out of the cloth ten times over, and can kiss glass cleaners, polishes and paper towels goodbye." Zap Cloth is also a good demonstration product. "We invite retailers to visit our website and see our demonstration video." Kaywos also sells a training DVD that shares selling strategies.
Buying highlights
The suggested retail price for Zap Cloth is $6, two for $10, five for $20, or 10 for $32. With a minimum of 100,000 pieces in stock at all times, Kaywos can quickly ship orders, generally within 24 hours. The Zap Cloth instructional DVD is available for $10, and retailers can view videos of both items being demonstrated on the company's website. All of Kaywos' products come with a "No Risk" guarantee, and if a retailer is dissatisfied in any way, the company will buy back the product.
Kaywos is now offering private labeling to distributors. Your company name, website or email address, and phone number can be custom printed on the Zap Cloth package. To order, the minimum is 250 pieces.
Kaywos Inc.
1111 26th Ave. E. Unit B
Bradenton, FL
Tel.: 855-927-7873
Websites: ZapCloth.net and ZapCloth.com