Before you know it, the holidays will be over and consumers will be looking to purchase gifts for the next big gifting event: Valentine's Day. From statement jewelry pieces and apparel to beauty products and fashion accessories, we've got you covered for all of your gift guide needs.
If you are looking for even more inspiration, be sure to head on over to www.WholesaleCentral.com and check out the thousands of quality products listed from trusted suppliers across every category.
---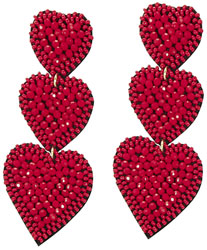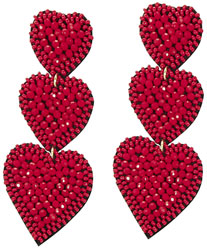 These beautiful earrings are unique and perfect all year round, not just for Valentine's Day. Measuring 3.25′", they can be easily shown off by the front register to add on to any sale.
Kaleidoscope Accessories
800-213-6172
www.kaleidoscopeaccessories.com
---
Matching Purse & Compact Mirror Sets
Let your customers express their love to their valentine with these beautiful matching mini-purse and double compact mirror sets. Available in pink and black, each set has hearts and the word "love" pasted all over. They are great for carrying makeup and small travel accessories.
Harry D. Koenig & Company, Inc.
800-645-6503
www.harrydkoenig.com
---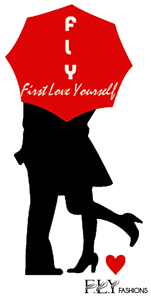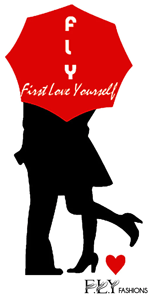 F.L.Y – First Love Yourself Fashions is a fashion movement and meant to be an eye-catching and trendy representation of personal style. Graphic tees are always in season, and they also make for great gifts for Valentine's Day. FLY gives your customers a trendy and attractive way to voice their self-love and personal style.
F.L.Y. – First Love Yourself Fashion
www.fly-fashions.com
---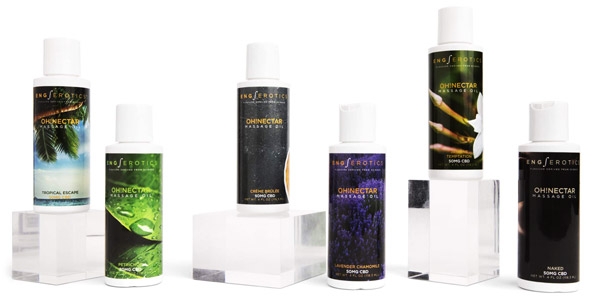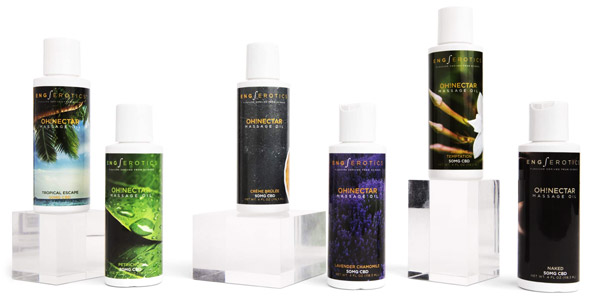 These vitamin-rich massage oils are made with natural oils, plant extracts, and fragrance. They provide a long-lasting slip and leave the skin feeling silky and hydrated, not dry or tacky. Currently, six different scents are available, plus an unscented variety for those with particularly sensitive skin or who are looking to avoid fragrances. Each bottle contains 50 mg of pure hemp-derived CBD (less than 0.3% THC).
EngErotics
720-443-1514
www.engerotics.com
---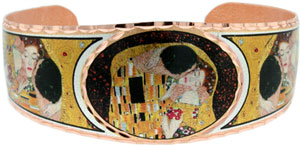 This unique art jewelry bracelet is inspired by one of the most world-famous paintings, The Kiss by Gustav Klimt. Handmade by the highly skilled artisans of Copper Reflections, it is made from copper, silver-plated, and diamond cut to bring out the luster of copper and shine brightly. It can be easily adjusted to fit the wrist and does not require polishing as it is protected by many layers of acrylic finishes.
Copper Reflections
937-760-0470
www.copperreflections.com
---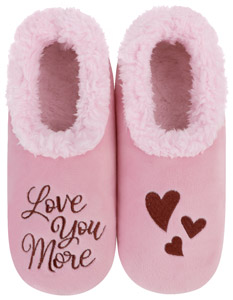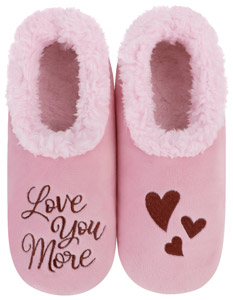 Love You More Slippers
These slippers are a perfect Valentine's Day gift. Lined with an exclusive pom pom cozy sherpa material, they are machine washable and come with non-skid bottoms.
Snoozies!
252-650-7000
www.buyersdirectonline.com
---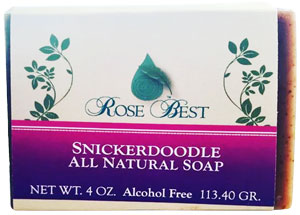 With no parabens, phthalates, or alcohol, let your customers indulge themselves or a loved one with these natural soaps for a moisturizing feel at an affordable price. Not only do they have the finest ingredients, but they are also made in small batches to ensure top quality. They retain and contain natural glycerin, which is known to leave the skin soft and silky. All soaps contain olive oil, coconut oil, palm oil, sunflower oil, shea butter, avocado oil, and castor oil, with additions of essential oils and different pure natural herbs.
Rose Best
248-943-3905
www.rosebest.com
---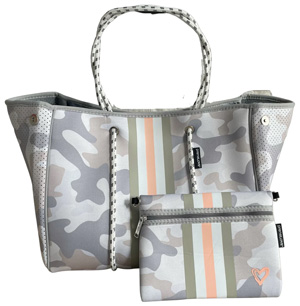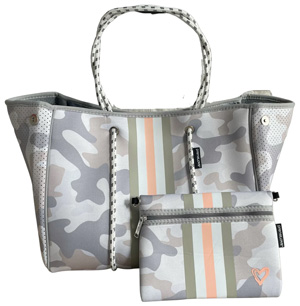 Superior in quality, design, style, function, and durability, your customers will easily be able to see and feel the difference the moment they pick this tote bag up. Made of premium neoprene fabric, it is exceptionally durable and lightweight. It comes with a matching wristlet and protective storage dust bag.
preneLOVE
www.prenelove.ca
---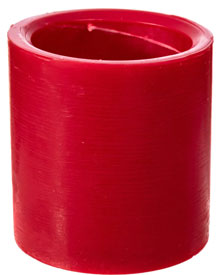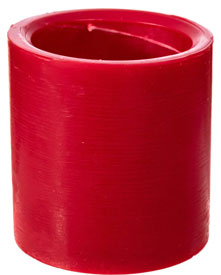 These candles are super unique: simply light the outer wick first, then watch it melt into the center around the wood-wick, creating a second candle. They are fun to watch burn, and come in three different sizes and burn times: Small – 3×3 inches (20+ hours), Medium – 4×4 inches (30+ hours), and Large – 4×6 inches (40+ hours).
Spiral Light Candles
651-300-7940
www.spirallightcandles.com
---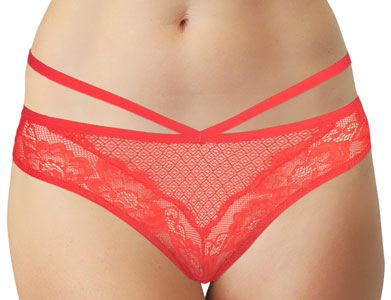 The lace and mesh with extra side strap detailing makes this a flattering Valentine's Day gift for significant others. Made of 90% nylon and 10% spandex, hand wash care is recommended.
Teri Lingerie Company
503-241-8374
www.terilingerie.com
---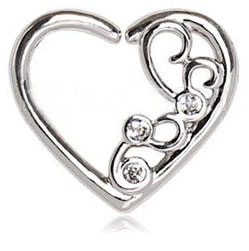 Made with stainless steel and zinc alloy, this annealed (flexible) jewelry piece comes in a beautiful design with three round cubic zirconia gems. It is a versatile jewelry piece that can be worn as a captive bead ring or cartilage earring.
Fashion Hut Jewelry Wholesale
732-306-0399
www.fashionhutjewelrywholesale.com
---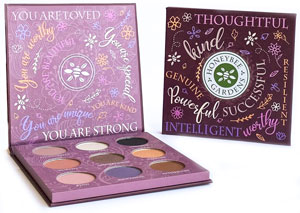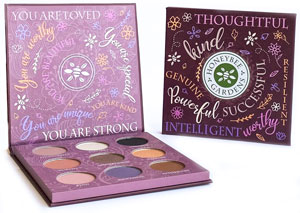 You are LOVED. You are KIND. You are WORTHY. Each shade in this eco-friendly palette reminds the user of the amazing qualities they possess, infusing the power of positivity into their inner beauty routine. These hyperpigmented eyeshadows balance easy neutrals, stunning shimmers, and rich mattes. Use these ultra-blendable shadows solo or combined for every occasion. 9 shadows in total: 4 shimmers, 5 mattes, in a fully recyclable palette.
Honeybee Gardens
610-396-9225
www.honeybeegardens.com
---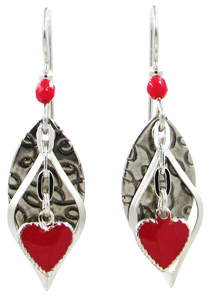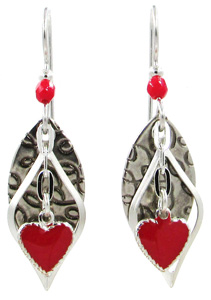 Handcrafted in the USA, these playful heart drop earrings feature a signature spaghetti texture and a burst of bright red color. This design measures 1 1/2″ long and has surgical steel earwires.
Silver Forest
www.silverforest.com
---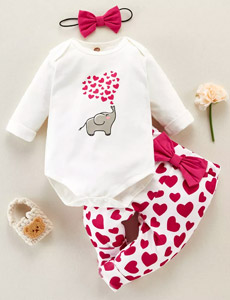 These adorable outfits are great for any baby's first Valentine's Day celebration. Available sizes are 0-3 months, 3-6 months, 6-9 months, 9-12 months, and 12-18 months.
Riolio Wholesale Baby Clothing
www.riolio.com
---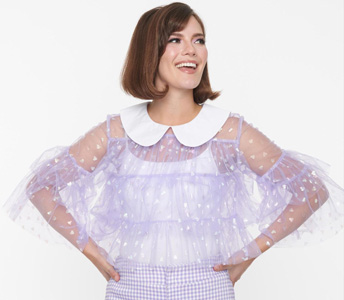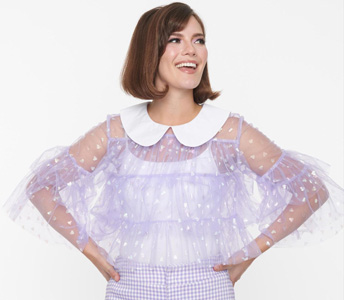 Smak Parlour Lavender Iridescent Hearts Mesh Ruffle Top
This crop top is crafted in a lavender sheer mesh with iridescent hearts. The relaxed ruffled silhouette boasts a contrasting white Peter Pan collar and three-quarter-length sleeves. The cami is sold separately. Available in sizes XS-4X.
Unique Vintage
800-721-6589
www.unique-vintage.com
---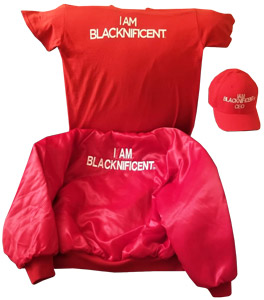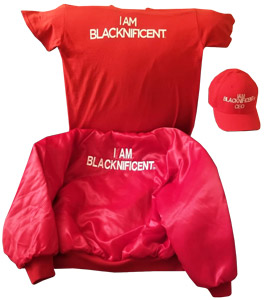 I Am Blacknificent T-Shirt & Jacket
This matching t-shirt, jacket, and hat trio is perfect for anyone looking to represent black pride. The red color is perfect for Valentine's Day gifts, but there are also more colors available. Simply call and ask for the different options.
IamBlacknificent T-Shirt Collection
253-254-1941
---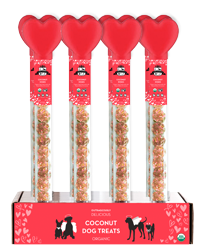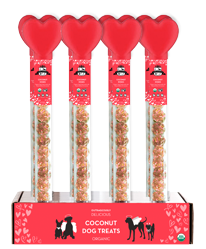 Coconut Kisses Dog Treats
Dogs deserve to be loved all year round, but here is something extra special to show them love and appreciation. These Coconut Dog Treats are perfect for showering any dog with love and kisses on Valentine's Day! Custom made candy cane with a special Valentine's Day recipe, each ball is soft and easy to break apart. Festively rolled in organic, plant-based colored coconut shreds.
Lord Jameson
985-805-6735
Related articles: